Iran's Mohammad Reza Aref quits presidential race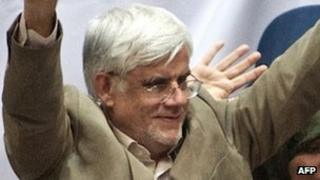 The sole reformist candidate in this week's Iranian presidential election, Mohammad Reza Aref, has dropped out of the race, his website says.
Mr Aref said the head of the reformist movement, former president Mohammad Khatami, had asked him to withdraw.
There have been recent calls for Mr Aref to quit in favour of moderate candidate Hassan Rowhani.
Most of the six remaining candidates in the poll are conservatives close to Supreme Leader Ayatollah Ali Khamenei.
Conservative Gholam Ali Haddad Adel withdrew his name on Monday, urging people to vote for a conservative candidate though he did not endorse any individual.
Seen as completely loyal to Ayatollah Khamenei, he had been trailing in the polls and his withdrawal is not expected to have much impact on the voting outcome.
Mass protests
Mr Aref was a low-profile reformist who had shown reluctance at standing as a presidential candidate in the past. He had said that if Mr Khatami joined the 2013 election as a candidate, he would step aside.
"In consideration of Mr Khatami's explicit opinion, and the experiences of two past presidential elections, I declare my withdrawal from the election campaign," he said on Tuesday.
The move is likely to be seen as an attempt to bolster the reformist vote in favour of Hassan Rowhani, who has been running well in the polls recently.
Mr Rowhani - a former nuclear negotiator - won the official backing of Mr Khatami's advisory council on Monday.
Friday's election is the first since 2009, when reformists disputed the re-election of Mahmoud Ahmadinejad.
Allegations of vote-rigging led to mass protests that saw the deaths of at least 30 people and the arrests of more than 1,000 people.
The two reformist candidates from 2009 - Mir Hossein Mousavi and Mehdi Karroubi - remain under house arrest.
Mr Khatami declined to stand, and another moderate - former president Akbar Hashemi Rafsanjani - was disqualified from standing.
The original eight candidates for the presidential elections were approved by Iran's Guardian Council out of a list of more than 600 hopefuls.
Five were seen as conservatives professing absolute loyalty to Ayatollah Khamenei, while the three remaining candidates are described as cautious reformers.
Mr Ahmadinejad is constitutionally banned from standing for a third term as president. His protege Esfandiar Rahim Mashaei failed to get through vetting process.