Syrian army 'captures' final rebel stronghold near Qusair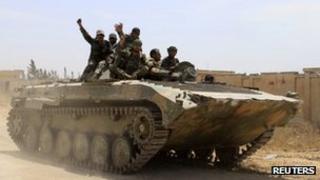 The last rebel stronghold near the strategic town of Qusair, western Syria, has fallen to government forces, Syrian state TV says.
Eastern Bouweida village, which lies between Qusair and the restive city of Homs was captured by troops backed by militants from Lebanon's Hezbollah.
The Syrian army regained control of the town of Qusair on Wednesday after weeks of intense fighting with rebel forces.
The rebels have now lost a key supply route into neighbouring Lebanon.
"We can now declare Qusair and the surrounding area to be a fully liberated area. We will go after the terrorists wherever they are," an unnamed, senior Syrian army officer told state television on Saturday.
The TV report showed shattered buildings and vehicles and weaponry abandoned by fleeing rebels in the village.
Activists say that dozens of rebel fighters, including some foreign fighters, have been captured alive in Bouweida, but their fate is not yet known.
One question now, says the BBC's Jim Muir in Beirut, is what became of the civilians, the wounded and the fighters who fled there from Qusair, believed to number hundreds of people.
What's clear though, he adds, is that the entire area has now come back under government control.
Treatment in Lebanon
Aid agencies such as the Red Cross have been trying to gain access to the hundreds of injured civilians believed to have fled Qusair.
Some 30 families are reported to have fled to the town of Arsal, near the border with Lebanon, a local official told AFP news agency.
Dozens of wounded rebels have also arrived in Arsal awaiting treatment, with at least 28 wounded fighters receiving treatment in a hospital in Baalbek, eastern Lebanon, a Lebanese security official told the news agency.
Over half a million Syrians have fled to neighbouring Lebanon since the conflict broke out in March 2011.
On Friday, the UN launched its largest ever aid appeal seeking $5bn (£3.2bn; 3.7bn euros) for humanitarian aid to Syria.
Lebanon and Jordan have both joined the appeal, asking for donations of $450 million (£289m) and $380 million (£245m) respectively to cover the financial costs of hosting the rising count of Syrian refugees.
More than 80,000 people have been killed in Syria and more than 1.5 million have fled the country since the uprising against President Assad began two years ago, according to UN estimates.