Iraq Muqdadiyah bomber kills Iranian pilgrims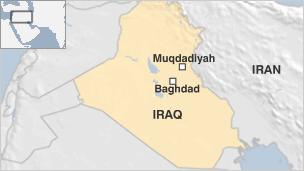 A suicide bomber in Iraq has rammed a car packed with explosives into a bus, killing at least 10 Iranian Shia pilgrims.
At least 30 other people were wounded in the blast in the town of Muqdadiyah, 80km (50 miles) north-east of Baghdad.
Police said the attacker targeted a convoy of three buses as it drove through the town on their way to visit shrines in the Shia holy city of Najaf.
It is the latest in a series of deadly sectarian attacks across Iraq.
In separate incidents on Friday, two car bombs exploded at a police checkpoint between the cities of Falluja and and Ramadi in the mainly Sunni province of Anbar.
At least four police officers died in the attack, officials said.
The Iranians targeted in Friday's bombing were travelling south from the Iranian border towards Najaf, a religious tourist destination for Shia Muslims.
"When the buses passed, a white car driving very fast came out of an alleyway and hit the second bus and I saw that bus burst into flames," Ahmed Ferhan, an Iraqi man injured in the blasts, told Reuters news agency.
Iranian media reported as many as 16 pilgrims had died in the bombing and more than 40 others were hurt.
Although no group admitted carrying out the attack, Shia pilgrims have frequently been targeted by Sunni militants in Iraq.
Earlier this week, several streets in Baghdad were closed when hundreds of thousands of pilgrims travelled to a shrine in the capital to mark the death of 8th Century Imam Moussa ibn Jaafar al-Kadhim.
Last month alone, 1,045 Iraqi civilians and security officials were killed, according to UN figures - the bloodiest month since June 2008.
The spike in violence has raised fears of a return to the relentless violence of 2006-07, when mainly Sunni insurgent groups, including al-Qaeda in Iraq, targeted civilians and security forces and Shia militants hit back.
The bloodshed was eventually brought to an end by a US troop surge.