Voices from Qusair: Inside the Syrian town under siege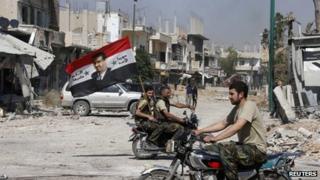 Syrian pro-government forces recaptured the strategic town of Qusair on Wednesday after a two-week-long battle with rebels. Shortly afterwards, a Syrian army field commander appeared on state television.
"We declare the town of Qusair to be safe and completely free from the armed terrorist elements," he said.
"At the same time, we urge the residents of Qusair to return home."
But a BBC team that entered Qusair after the fighting found it in ruins. The town where 30,000 people once lived is now all but deserted by civilians.
"They killed my brother, they killed children - because we support the government," one man told the BBC's Lyse Doucet as he drove away in a van.
Devastation
Qusair lies only 10km (6 miles) from the Lebanese border and is close to important supply routes for both the government and rebels.
It had been the focus of fierce fighting between rebels and troops backed by a pro-government militia and militants from the Lebanese Shia group Hezbollah.
Rebel-held parts of Qusair were effectively under siege.
Rifaie Tammas, an activist inside the town, described the final stages of the battle on his Twitter account.
"Hezbollah and regime forces have advanced towards the centre of Qusair flattening out all buildings on the front lines," he said on Tuesday.
"Thousands are us are now waiting to be slaughtered by Hezbollah... Qusair makeshift hospital, which is packed with wounded civilians, is under sniper fire."
The day before, he gave an interview to the Independent newspaper describing scenes of devastation and a sense of panic.
"Every area of al-Qusair is either partially or totally destroyed," he said. "Once I get out of my house, I see whole buildings flattened out on the ground.
"There is chaos inside the city. Nobody knows what's going on."
'Tough days ahead'
Another activist, Hadi Abdullah, told the Associated Press that thousands of civilians were trapped in the town, including hundreds of wounded.
Hezbollah had cut off running water when it seized the water treatment plant, he said, and food was running out.
Rebels said they finally withdrew from Qusair after intense bombardment overnight.
During the barrage, doctors in the town reportedly managed to evacuate around 300 seriously wounded civilians who had been trapped during the siege.
Convoys ferried them to the nearby village of al-Buweida, said Kazem Alzein, a doctor coordinating medical treatment in Qusair.
"We had to. They were destroying the neighbourhood," he told AP.
Many residents fled to neighbouring Lebanon's mainly Sunni border town of Arsal, the news agency reported.
"There isn't a house that was not hit by at least one shell in Dabaa or Qusair. There are also villages that were totally destroyed,'' said a man who identified himself as Abu Alaa. He said he walked about 35km (20 miles) to safety in Lebanon on Tuesday.
The International Committee of the Red Cross (ICRC) has said it hopes to gain access to the town to help civilians caught up in the fighting.
But the town's fall came as plans stalled for an international peace conference to find a solution to the Syrian conflict.
"Long and tough days ahead of residents of Qusair," wrote activist Rifaie Tammas.