Iran dissident's funeral turns into anti-government protest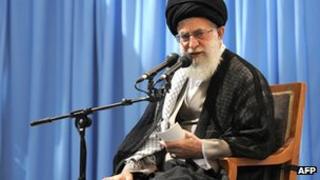 Tens of thousands have attended the funeral of a senior dissident cleric, in what became Iran's biggest anti-government protest for years.
Ayatollah Jalaluddin Taheri died at the age of 87 on Sunday in Isfahan.
He was a vocal opponent of the hardliners in power in Iran and had resigned from his post in protest.
Mourners at the funeral chanted slogans against the government and Iran's supreme leader, Ayatollah Ali Khamenei, describing him as a dictator.
Protesters also called for the release of all political prisoners, including the two top leaders of the reformist green movement who are under house arrest in Tehran.
Ayatollah Taheri was a pro-reformist Friday prayer leader in Isfahan, one of the largest cities in Iran.
It is the biggest such protest in Iran in the past few years, and interestingly the police did not intervene, says Kasra Naji of BBC Persian.
The authorities are careful not to provoke public anger just 10 days ahead of the presidential elections, observers say.