UN human rights body condemns foreign fighters in Syria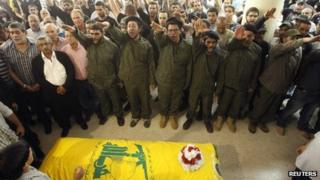 The UN Human Rights Council has condemned Syrian troops' attacks on the town of Qusair, and the use of foreign fighters in the offensive.
The vote passed with 36 in favour, one against, and eight abstentions.
Syria's key backer Russia called the resolution "odious", but is not a voting member of the council this year.
The Lebanese Shia movement Hezbollah supports the Syrian government and its fighters are widely reported to be involved in Qusair.
The Council also called for an urgent investigation into alleged abuses in Qusair.
Only Venezuela voted against the resolution. Two delegations were absent.
The resolution - drafted by Qatar, along with the US and Turkey - also calls for immediate access for UN aid agencies.
Qatar is widely believed to be supporting opposition forces, some of them also foreign.
Before the vote, UN High Commissioner for Human Rights Navi Pillay called on foreign powers to stop "emboldening" the belligerents by providing weapons on both sides of the conflict.
"The message from all of us should be the same: we will not support this conflict with arms, ammunition, politics or religion," she said in a statement.
Russian Foreign Minister Sergei Lavrov earlier told Russian TV that the resolution could undermine joint efforts to convene an international conference in June on ending the two-year conflict.
"For this to happen, everyone has to work honestly, and not allow double standards - backing the conference and supporting this initiative in word," Mr Lavrov said.
On Wednesday, Syrian state media claimed they had seized a key air base in the fight for Qusair.
The Dabaa air base was seized after several hours' fighting, according to Syrian military sources.
Hezbollah's al-Manar TV showed tanks being deployed inside the air base and soldiers in the base's hangars.
Fighting around Qusair has been raging for several days as government forces have mounted a fierce offensive to oust rebels from the town.
Correspondents say Qusair is a strategic conduit for the rebels, through which weapons and fighters can be transported from Lebanon, about 10km (six miles) away.
The town is also important for President Assad because it is located between Damascus and the Alawite heartland of the embattled government on the Mediterranean coast, and is not far from the motorway linking the capital to the city of Homs.