Iraq violence: Baghdad bomb attacks leave 25 dead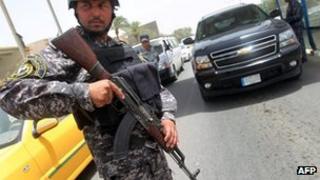 At least 25 people have been killed in a series of bomb blasts in the Iraqi capital Baghdad, local officials say.
In the southern area of the city, 16 people were killed and some 40 injured in a car bomb explosion. Many victims were attending a wedding party.
Another nine people were killed and about 15 injured in two bomb blasts in western Baghdad.
The recent upsurge in violence across the country comes amid rising sectarian and political tension.
On Monday, 66 people were killed by car bombs in Baghdad targeting Shia-majority areas of the city, including on the edge of Sadr City.
Tension between the Shia Muslim majority, which leads the government, and minority Sunnis has been growing since last year.
Sunnis have accused the government of Prime Minister Nouri al-Maliki of discriminating against them - something the government denies.
The UN has said more than 700 people were killed in April - the highest monthly toll in almost five years.
Estimates put the number of deaths this month at more than 450.
Despite the persistent violence, there have been intensifying efforts on both sides of the divide to prevent a return to civil war, observers say.