Irish medical campus in Bahrain challenged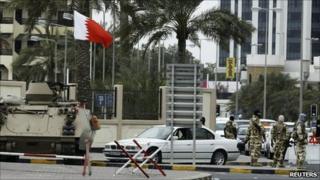 A group of Irish lawyers has called for a medical school in Bahrain to have its accreditation denied because of what it calls "ongoing human rights abuses" in facilities the school shares with the Bahrain healthcare system.
Ceartas/Irish Lawyers for Human Rights argues in a detailed report that the Royal College of Surgeons in Ireland (RCSI) campus in the Bahraini capital of Manama falls within Irish jurisdiction as it is wholly owned by its parent organisation RCSI in Dublin.
RCSI invested nearly 100m euros (£86m) in building the campus in 2009 at the Medical University of Bahrain, on land donated by the Bahraini government.
Ceartas says the Medical Council of Ireland (MCI) should withhold accreditation to RCSI-Bahrain because the college has "an education programme integrated with health systems connected to torture, discriminatory conduct in the provision of healthcare and employment of medical staff, and consistent violation of the rights to freedom of expression".
The report alleges that medical personnel have been mistreated on the basis of their sect.
When asked about the Ceartas report, RCSI-Bahrain referred the BBC to its Dublin office, but the organisation declined to comment, stating: "We are not in a position to respond until we have seen and studied the report".
No-one from the Bahraini ministry of health was available for comment.
Medics caught up in protest
Bahrain has a Shia Muslim majority ruled by a Sunni Muslim royal family. Shia have long complained of discrimination, poor housing and high youth unemployment in a country that has grown rich on oil resources first discovered in 1931.
But one discipline where Shia had faced little discrimination was medicine. Many Shia worked at the country's major public hospital, the Salmaniya Medical Complex.
However, that all changed when medics at the hospital were caught up in pro-democracy protests that at their height in February 2011 drew over 100,000 people onto the streets.
In March and April 2011 more then 70 medics were arrested in a series of night-time raids. Many were allegedly tortured into giving false confessions.
Forty-eight medical professionals were convicted before a military tribunal on a variety of charges and 20 were given sentences of between five and 15 years for - amongst other charges - weapons possession and threatening national security.
Independent observers and international human rights organisations have consistently argued that the medics' only crime was coming to the aid of injured protesters. This happened when the peaceful occupation of a roundabout close to Salmaniya hospital was cleared by force on two occasions in February and March 2011.
All of the medics are Shia Muslims, as were the vast majority of protesters who occupied the roundabout.
International outrage, sparked largely by what had happened to the medical personnel, caused the Bahrain government to act.
In June 2011, King Hamad bin Isa Al Khalifa asked an independent panel of international human rights experts to investigate alleged abuses.
The Bahrain Independent Commission of Inquiry (BICI) submitted a damning indictment five months later.
The report documented numerous abuses, including the systematic torture of detainees by security forces, and confirmed that medics had been forced to sign confessions under duress.
King Hamad accepted the report in full and promised reforms.
Thirty-one of the 48 Salmaniya medical workers who were convicted before the military tribunal were subsequently acquitted by a civilian court. However, several doctors remain in jail and many of those who were acquitted have been unable to return to their jobs or practice medicine privately.
Salmaniya is run by the ministry of health and is one of the hospitals with which RCSI-Bahrain works. The college also works with hospitals run by the defence ministry.
'Voices of sadness'
Until the events of 2011, RCSI-Bahrain seemed a model of medical education excellence. It had an enviable record of producing well qualified medical professionals.
But when doctors, nurses and paramedics were arbitrarily arrested the college and its parent organisation in Dublin remained largely silent.
Eoin O'Brien is a professor of molecular pharmacology at University College Dublin. A fellow of RCSI, he first raised his concerns after a visit to Bahrain in July 2011 where he met some of the medics and their families.
He told the BBC he was shocked by what he had heard. "The stories were genuine and consistent, they were voices of sadness".
When he returned to Dublin he made it his business to speak to the RCSI and remind them that four of the imprisoned doctors had obtained fellowships from RCSI in Dublin.
"I said that the college by its silence was seen as being complicit with the Bahrain regime and I urged them not to compromise principal for the sake of financial involvement."
But the then-president and vice president of RCSI "refused to accept my advice". Instead, he says, he was asked to tone down his criticism as it was damaging the reputation of RCSI.
Professor O'Brien said he was "saddened" by that response.
"I have a great affection for the RCSI but these [medics] were tortured. They should all be pardoned, compensated and allowed to return to their jobs."
Gearoid O'Cuinn of Ceartas says the Medical Council of Ireland (MCI), the body that provides accreditation, "can't ignore the torture".
Mr O'Cuinn noted that the council had several times put off an accreditation visit to Bahrain. He accused the MCI of playing for time.
"[The MCI] is hoping some things will improve but time doesn't necessarily bring improvement".
Professor O'Brien believes that the Ceartas report, which argues that the MCI is bound by law to consider human rights and other abuses as part of the accreditation process, has put the council in an awkward place.
"The [MCI] finds itself in a situation where, if it gives the accreditation, it accepts that international standards are not being met, it accepts the militarisation of medicine and the violation of medical neutrality in Bahrain."
In a statement the MCI told the BBC: "The council has not yet travelled to RCSI-Bahrain, and a date has not been fixed for an accreditation visit. RCSI-Bahrain has therefore not been accredited by the Medical Council".
In March of this year the campus was embroiled in controversy after a two-day conference organised with Medecins Sans Frontieres (MSF) to examine "medical ethics and dilemmas in situations of political discord or violence" was cancelled, allegedly because of pressure from the Bahraini government.
College President Tom Collins, who had been closely involved with the organisation of the conference, resigned in protest.
At the time, RCSI issued a statement that said: "The view locally was that the timing was not right for the planned conference and therefore it has been deferred."