John Kerry hails plan to boost Palestinian economy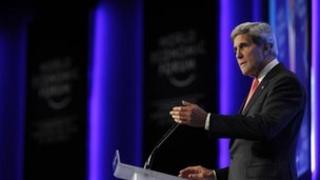 US Secretary of State John Kerry says a plan to increase investment in the Palestinian economy could boost it by 50% in three years.
He was speaking at the World Economic Forum, being held in Jordan.
Mr Kerry said the "transformative" plan could also drastically reduce unemployment and raise average wages by some 40%.
But he also said the proposal would depend on progress on a peace deal between the Palestinians and Israel.
Israeli President Shimon Peres was among those attending the conference, in the Jordanian town of al-Shunah, along with Palestinian leader Mahmoud Abbas.
Mr Kerry is on his fourth visit to the region since taking office in February.
On Friday, following two days of talks with Israeli Prime Minister Benjamin Netanyahu and Mr Abbas, he said that "hard decisions" would be needed for peace.
'It can be done'
Mr Kerry and former UK Prime Minister Tony Blair have been working with business leaders to boost the Palestinian economy.
On Sunday, Mr Kerry said the new plan was "different than anything we've done before".
He said he hoped there would be $4bn (£2.6bn) in investment, to expand the economy by up to 50% in the next three years.
"The most optimistic estimates foresee enough new jobs to cut unemployment by two-thirds to 8%, down from 21%, and to increase the median wage by 40%," Mr Kerry said.
Construction of new homes, tourism and agriculture would be key sectors, he said, adding: "We know it can be done."
But he stressed progress would have to made on peace talks. The last round of direct talks between the two sides broke down two years ago over the issue of settlements.
Mr Kerry has called on Israel to prevent further settlement building where possible in the West Bank but has stopped short of calling for a total freeze.
Palestinian officials want all settlement activity in the West Bank to stop before they return to negotiations with Israel.
Israel says it will not accept any preconditions for talks.
Israeli settlements in the West Bank are considered illegal under international law, although Israel disputes this.
Other contentious issues include borders, the status of Jerusalem and the fate of Palestinian refugees.