Iran election: Rafsanjani criticises leaders' 'ignorance'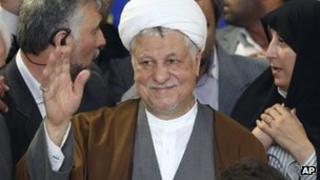 Former Iranian President Akbar Hashemi Rafsanjani has accused Iran's leaders of incompetence and ignorance, an opposition website reports.
Mr Rafsanjani's comments come two days after he and another candidate were disqualified from next month's presidential election.
"I don't think the country could have been run worse," he was quoted as saying on the Kaleme website.
The Guardian Council approved only eight potential candidates to stand.
They are all considered conservatives. The Guardian Council, a body of theologians and jurists, is loyal to Supreme Leader Ayatollah Ali Khamenei.
"I don't want to stoop to their propaganda and attacks but ignorance is troubling," Mr Rafsanjani was quoted as saying in a meeting with supporters.
"They don't understand what they're doing."
Mr Rafsanjani, who was president between 1989 and 1997, entered the election race at the last minute as a reformist candidate.
He had been seen as able to win the support of pro-reform and centrist politicians, whose two leaders from the last election are under house arrest.
The former leader said he had not realised his candidacy would create upset in the country, in his remarks made on Thursday.
"In no instance should people despair," he added.
The 78-year-old will not contest his disqualification, his campaign manager was quoted as saying on Wednesday.
But Iran's President Mahmoud Ahmadinejad says he will contest the disqualification of his ally Esfandiar Rahim Mashaei, who was also barred from the presidential poll.
Known for his controversial religious views, Mr Mashaei has been denounced by hardline clerics as part of a "deviant current" that seeks to undermine Iran's Islamic system.