Hezbollah 'perpetuating Assad's campaign of terror'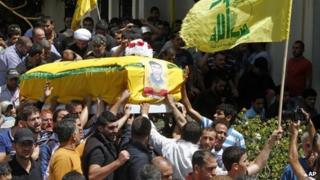 US Secretary of State John Kerry has said the militant Lebanese Shia Islamist group Hezbollah and Iran are helping perpetuate President Bashar al-Assad's "campaign of terror" in Syria.
Mr Kerry said thousands of Hezbollah fighters were contributing significantly to the violence.
He added that Iran was actively supporting Hezbollah's involvement.
Dozens of Hezbollah militants are said to have been killed fighting alongside Syrian troops in Qusair since Sunday.
Government forces have launched an offensive to recapture the strategically important rebel-held town, which is close to both the city of Homs and the Lebanese border.
On Wednesday, rebel fighters said Qusair had come under bombardment by aircraft and heavy artillery for the fourth consecutive day.
An official from the office of the governor of Homs province told the Associated Press news agency that about 80% of the town was now in government hands. The rebels have denied that they have lost ground.
The acting head of the main opposition alliance, the National Coalition, meanwhile called on rebel commanders across Syria to send reinforcements to Qusair, citing concerns over "foreign invaders".
"Everyone who has weapons or ammunition should send them to Qusair and Homs to strengthen its resistance. Every bullet sent to Qusair and Homs will block the invasion that is trying to drag Syria back to the era of fear," George Sabra said in a statement.
'Right and duty'
Members of Hezbollah's military wing are reported to have been fighting for month alongside the Syrian army and the National Defence Forces, a pro-government militia allegedly set up and trained by Iran, as they gradually advanced on Qusair and surrounded it.
Hezbollah has denied sending any fighters into Syria, insisting that Lebanese Shia living in Syria who are affiliated to the group have been defending themselves.
However in recent days Hezbollah has held several public funerals in Lebanon for fighters believed to have been killed fighting in Qusair. Video footage was broadcast by the group's television channel, which said they had died while carrying out their "jihadist duty".
Speaking at a news conference in Amman on Wednesday after talks with Jordanian Foreign Minister Nasser Judeh, Mr Kerry said the US believed Hezbollah had intervened "very significantly" in Qusair.
"There are several thousands of Hezbollah militia forces on the ground in Syria who are contributing to this violence," he said.
"In addition to that, Iranians are on the ground, and Iran is actively helping to support Hezbollah."
"Active military support to the Assad regime simply exacerbates the sectarian tensions, and it perpetuates the regime's campaign of terror against its own people."
Syria's ambassador to Jordan, Bahjat Suleiman, told reporters in Amman that it was Hezbollah's "right and duty to defend" the dozens of villages around Qusair inhabited by Lebanese nationals, but insisted the Syrian military did not require the group's assistance.
Mr Kerry is in Jordan for a "Friends of the Syrian People" meeting, which will also be attended by officials from Turkey, Saudi Arabia, the UAE, Qatar, Egypt, the UK, France, Germany and Italy.
Following the meeting, delegates issued a joint statement denouncing the "flagrant intervention" in Syria by Hezbollah and Iran, and demanding their immediate withdrawal.
The UK and France are urging other European Union member states to designate Hezbollah's military wing, the Islamic Resistance, a terrorist organisation. The move comes after Germany changed its stance, having long been against anything that could destabilise Lebanon.
'Commitment to peace'
The Friends of the Syrian People meeting also prepared for an international conference set to be held in Geneva next month to find a political solution to the conflict, based on the final communique of the UN-backed Action Group for Syria meeting in the Swiss city in June 2012.
On Wednesday, Mr Kerry warned the Syrian president that if he was not prepared to make "a commitment to find peace in his country", the US and others would consider increasing backing for his opponents.
Without serious negotiations, Syria faced worse bloodshed, he added.
"Our understanding [is that] if Geneva 2 were not on the horizon, all we would be looking at is the continued tragic disintegration of the county that will go down further into more violence and more destruction."
Syrian Deputy Foreign Minister Faisal Mekdad later told the Russian news agency Itar-Tass that the government would decide soon whether to participate in the Geneva conference.
The UN says that more than 80,000 people have been killed since the uprising against President Assad began in March 2011. There are 1.5 million refugees taking shelter in neighbouring countries and an estimated 4.25 million internally displaced people.