Seven Egypt security force hostages freed in Sinai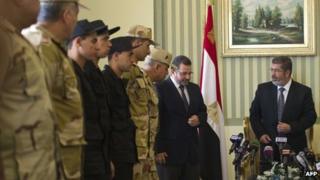 Seven members of the Egyptian security forces who were abducted in the Sinai peninsula have been freed.
The men arrived at a military base in a Cairo suburb on Wednesday where they were received by President Mohammed Morsi and government ministers.
Mr Morsi made the unprecedented move of calling on the people of Sinai to "give up their arms".
The peninsula has become increasingly lawless since President Hosni Mubarak was ousted in 2011.
The hostages were seized while travelling in minibuses in northern Sinai, east of the city of El Arish on 16 May.
The soldiers appeared blindfolded in a video posted online a few days ago, asking President Morsi to meet the kidnappers' demands to release Islamist militants convicted of carrying out armed attacks in Sinai over the past two years.
'Departure point'
On his Facebook page, the army's official spokesman said the men's release after six days was due to "the efforts of military intelligence" and local tribal elders.
In the last 24 hours the military stepped up its search operations in Sinai, and only a few hours before the release of the soldiers, a military spokesman had threatened the abductors with severe and imminent punishment.
Correspondents say it is not yet clear whether these signals intimidated the kidnappers into releasing their hostages, or whether a deal was struck by tribal chiefs acting as intermediaries between the government and the militants.
The Egyptian authorities have reopened the Rafah border crossing between Egypt and Gaza, which was closed after the abduction.
Mr Morsi was shown on the air base tarmac greeting the seven released members of the security forces with a kiss on each cheek.
In a speech, he congratulated the officials involved in the operation and vowed that the "perpetrators will be held accountable".
Mr Morsi said that his government would bring stability back to the Sinai Peninsula, which has remained under a special security regime since Israeli troops withdrew in 1982.
He called on anyone carrying weapons to hand them over.
Correspondents say the inhabitants of the peninsula are heavily armed and previous military rulers of Egypt have seemed reluctant to challenge them.
"This event will be a departure point for all of us to solve the problems of Sinai, its people and to develop Sinai," Mr Morsi said.
On Monday, the president had ruled out negotiating with the captors, saying there was "no room for dialogue with the criminals".
While their identity is unclear, reports had suggested they were jihadist militants.
Islamist militants in northern Sinai have used the lack of central authority to carry out attacks across the border into Israel.
There have been several incidents in which Western tourists and other foreigners have been kidnapped in the peninsula.
Egyptian Bedouins have used hostage-taking to press for the release of jailed tribesmen they say have been sentenced unfairly on charges ranging from terrorism to drug dealing.