Rafsanjani and Mashaei barred from Iran presidency poll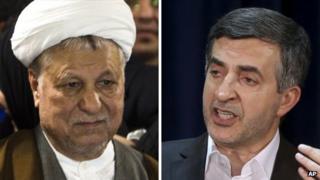 Two prominent figures in Iran have been barred from standing as candidates in next month's presidential election.
Ex-president Akbar Hashemi Rafsanjani and Esfandiar Rahim Mashaei, a close ally of outgoing President Mahmoud Ahmadinejad, had been excluded by the Guardian Council, state TV reported.
Only eight of the 686 people who registered as potential candidates were reportedly cleared to stand.
The Guardian Council is loyal to Supreme Leader Ayatollah Ali Khamenei.
The eight candidates approved by the 12-member body of theologians and jurists are all considered hardline conservatives with close links to Iran's ruling clerics.
They include the country's main nuclear negotiator, Saeed Jalili, former nuclear negotiator Hassan Rohani, former foreign minister Ali Akbar Velayati, and the mayor of Tehran, Mohammad Baqer Qalibaf.
Also approved were Mohsen Rezai, a former head of the powerful Revolutionary Guards, former speaker of parliament Gholamali Haddad-Adel, former nuclear negotiator Hassan Rowhani, former telecommunications minister Mohammad Gharazi, and Mohammad Reza Aref, a former vice-president and technology minister seen as the only reformist.
'Loyal conservatives'
Mr Rafsanjani, who was president between 1989 and 1997, had been seen as a candidate who could win the support of pro-reform and centrist politicians, whose two leaders from the last election are under arrest.
No explanation was given for his disqualification, but Guardian Council spokesman Abbas Ali Kadkhodai had suggested it would disqualify the 78 year old because he would be unlikely to cope with the demands of the presidency.
"An individual, who seeks to hold a senior administrative post but is only capable of doing work for several hours during the day, cannot be approved [to stand in the election]," he told al-Alam TV on Sunday.
Mr Mashaei is seen as the protege of President Ahmadinejad, who cannot seek re-election on 14 June because he has served two consecutive terms in office.
Known for his controversial religious views, Mr Mashaei has been denounced by hardline clerics as part of a "deviant current" that seeks to undermine Iran's Islamic system.
Mr Mashaei called the decision to bar him from standing for the presidency unfair and said he would appeal to the Supreme Leader.
"God willing this will be resolved," he was quoted as saying by the semi-official Fars news agency.
Mr Rafsanjani did not comment, but his supporters denounced the decision to exclude him on social media, according to the Associated Press.
The Guardian Council's spokesman said on Tuesday evening that there was "no provision in the election law for candidates to appeal".
BBC Iran correspondent James Reynolds says it is now clear that Ayatollah Khamenei did not want either man to disrupt an election he wants to reserve for loyal conservatives.
Millions of Iranians took to the streets to demand a re-run after the last presidential election in June 2009, when the Supreme Leader dismissed claims of widespread fraud by the three defeated candidates.
Two of them, former Prime Minister Mir Hussein Mousavi and the senior cleric, Mehdi Karroubi, became leaders of a nationwide opposition known as the Green Movement, after its signature colour.
They were placed under house arrested in February 2011 when they applied to stage a protest in support of the anti-government uprisings which were sweeping the Arab world. They are still being detained.