Saudi Arabia executes five Yemenis in Jizan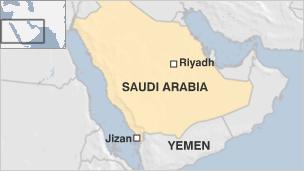 Saudi Arabia has executed five Yemenis convicted of murder and committing a series of robberies.
Their bodies were left hanging in public following the execution in the south-western town of Jizan, near the Yemen border.
Murder, armed robbery, drug trafficking, rape and apostasy are all punishable by death under Saudi Arabia's Sharia law.
At least 46 people have been executed in Saudi Arabia this year.
Executed bodies are left hanging when crimes are seen as particularly grave, the BBC's Sebastian Usher reports.
The convicts - Khaled, Adel and Qassem Saraa as well as Saif Ali al-Sahari and Khaled Showie al-Sahari - had formed a gang which committed "several crimes in various regions in the kingdom and robbed stores", the interior ministry told the AFP news agency.
The five Yeminis killed a man by beating him up and strangling him, the ministry said.
Crimes like robbery are becoming more common in Saudi Arabia, shaking its citizens' sense of security, says Sebastian Usher.
Seven men were executed by firing squad in the Saudi Arabian city of Abha in March, despite calls from UN independent experts urging authorities not to proceed with the executions.
It had been expected that the men executed in March would be beheaded. However unconfirmed reports said the authorities had been forced to resort to firing squads because of a shortage of swordsmen.
At least 69 people were executed in Saudi Arabia in 2012.