Syria crisis: Refugee total now more than 1.5m - UNHCR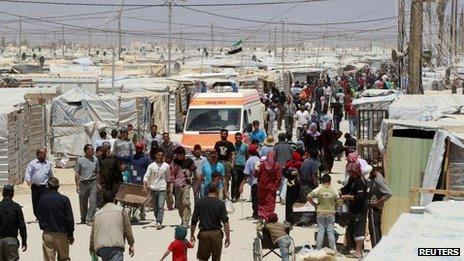 The UN's refugee agency has said that more than 1.5 million people have fled the conflict in Syria.
Most have fled to Jordan and Lebanon, but not have all been registered yet, meaning the true total is likely to be far higher, according to the UNHCR.
The situation inside Syria has deteriorated dramatically over the past four months, according to the agency.
The UN estimates that 80,000 people have died in the uprising against Syrian President Bashar al-Assad.
It says some 4.25 million have been displaced within the country.
"Refugees tell us the increased fighting and changing of control of towns and villages, in particular in conflict areas, results in more and more civilians deciding to leave," UNHCR said in a statement.
The UNHCR says it has registered a million refugees since the beginning of this year alone, and that "the widening gap between the needs and resources available is a growing challenge".
Early next month, UNHCR and non-governmental organisations are due to launch a "revised funding appeal" for the Syrian crisis.
Last month, children's charity Unicef said it would have to scale back "life-saving" support in Jordan's Zaatari camp if more money was not forthcoming.
Meanwhile, US media reported that Russia had sent sophisticated anti-ship missiles to Syria.
The New York Times quoted unnamed US officials as saying missiles sent by Russia to Syria could be used to counter any potential future foreign military intervention.
Top US military commander Gen Martin Dempsey said supplying the missiles was "an unfortunate decision".
The shipment "will embolden the regime and prolong the suffering," said Gen Dempsey, chairman of the Joint Chiefs of Staff.
Without confirming details, Russia's foreign minister said Russian supplies did not break any international rules.
It comes amid growing alarm that chemical weapons may be being used in Syria, something US President Barack Obama has said would be "a red line".
Russia is one of Syria's few remaining allies and its major arms suppliers. Over the years, in contracts worth billions of dollars, it has sold thousands of tanks, artillery units, aircraft, helicopters and defence systems to Damascus.
Another US newspaper, the Wall Street Journal, reports that Moscow has deployed at least a dozen warships to patrol waters near the Russian naval base in the Syrian city of Tartus.
It quotes a senior US defence official as saying the deployment is a "show of force" by Moscow to demonstrate its commitment to the region.
Although there have been growing calls for arms to be channelled to the rebel fighters in Syria, there has so far been very limited enthusiasm in the West for outright military intervention.
But there is concern that the presence of sophisticated Russian-supplied weaponry will make it much harder to agree and carry out such intervention, implement a blockade or conduct targeted airstrikes in the future.
Israel is also concerned such weapons could fall into the hands of Lebanese militant group Hezbollah, which could use them to either attack Israel or defend itself against any Israeli assault.
In other developments on Friday:
The campaign group Human Rights Watch said in a report that abandoned government security installations in the city of Raqqa contain evidence indicating arbitrary detention and torture was practiced there when it was under government control
UN Secretary General Ban Ki-moon met Mr Lavrov in Sochi on Friday to discuss the plans for an international conference to try to find a way of ending the Syrian conflict, which would aim to bring together the Syrian opposition and members of President Bashar al-Assad's government
The man in charge of the UN's plans for reconstruction in Syria after the conflict, Abdullah al-Dardari, has told the BBC that he estimated $60-80bn (£40-50bn) would be needed to rebuild what has been destroyed so far and to compensate for damage to the economy.
Related Internet Links
The BBC is not responsible for the content of external sites.