Turkish F-16 fighter crashes near Syria, killing pilot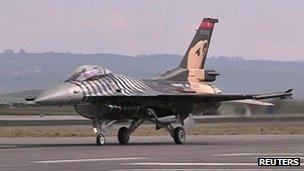 The pilot of a Turkish F-16 fighter jet has been found dead after the aircraft crashed near Turkey's border with Syria, reports say.
The plane was flying over the Amanos Mountains in the southern province of Osmaniye on Monday when it lost radio contact, Anatolia news agency said.
The pilot reportedly sent a message saying "I'm jumping" before contact was lost.
Rescuers found his body near to the wreckage of the aircraft.
Osmaniye Governor Celalettin Cerrah had earlier announced that a cockpit window and some other pieces of the aircraft had been found in the Caksir area.
The jet, which is based at the 5th Main Jet Command in the northern province of Amasya, had been performing an operational flight.
The Turkish military said it had lost touch with the aircraft at 14:15 local time (11:15 GMT).
People living around the village of Yarpuz, about 25km (16 miles) north of the Syrian border, said that they had heard a loud bang like an explosion, according to local media
A Turkish fighter jet was shot down by Syria over the Mediterranean in June 2012, after Syrian forces said it had entered the country's airspace.
It was not immediately clear what caused Monday's crash.