Jet fighter crashes in Yemeni capital Sanaa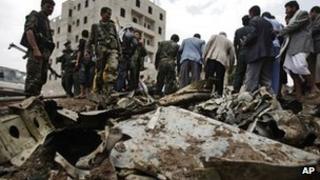 A jet fighter has crashed in the Yemeni capital Sanaa, killing the pilot.
The Soviet-made Sukhoi plane crashed into the al-Asbahi residential district in southern Sanaa, a military official said.
The incident took place as the plane was returning from a training exercise, AP reports.
Fragments were scattered across the district and the official said several people were slightly injured.
Witnesses said the Sukhoi SU-22 had exploded in mid-air.
The crash left a crater several metres wide and caused light damage to buildings, reportedly setting four houses on fire.
Security forces cordoned off the area and the defence ministry has begun an inquiry.
The accident is the second of its kind in Sanaa this year. At least 10 people died in February when a military aircraft crashed in a residential area.