Egypt 'al-Qaeda linked plot on Western embassy' foiled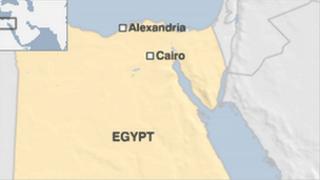 Egyptian police have arrested three al-Qaeda militants planning a suicide attack on a Western embassy, the country's interior minister says.
Mohammed Ibrahim did not specify which embassy had been targeted, but said a quantity of chemicals had been found.
Mr Ibrahim gave the names of three men and said they were planning attacks in both Cairo and Alexandria.
The plot was said to be in its final stages, he said.
A lawyer for the three men told al-Ahram website they denied all the accusations and he condemned the case as "fabricated".
At a news conference, the minister gave details of the discovery of 10kg (22lbs) of ammonium nitrate - which can be used in improvised explosives - a computer with files containing information on bomb-making and a flash memory with instructions on how to build rockets.
"The interior ministry was able to direct a qualitative blow to a terrorist cell which was planning to carry out suicide attacks against vital, important and foreign establishments," Mr Ibrahim told reporters.
One of the three suspects had been in touch with al-Qaeda in Algeria and had travelled to Iran and Pakistan for training, he said.
All three men, described as jihadists, had been in touch with an al-Qaeda militant in Pakistan as well as another in the Sinai peninsula, the minister said.
He also linked the men to a group arrested last October who were accused of setting up a cell in the Nasr City area of Cairo.
Islamist militants have been blamed for recent attacks on Egyptian targets in Sinai, apparently taking advantage of the increasing lawlessness in the region since the revolution that brought down former President Hosni Mubarak in 2011.
A small militant Salafist group said it fired two rockets from Sinai at the Israeli port of Eilat last month.