April 6 group leader Ahmed Maher freed in Egypt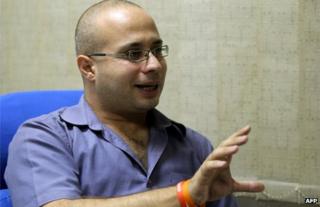 Ahmed Maher, a prominent activist who leads Egypt's April 6 Youth Movement, has been freed a day after his arrest.
He was picked up by police at Cairo airport on his return from a visit to the US, and ordered to be detained for four days.
However, he was released on Saturday without explanation.
April 6 was at the forefront of the movement that overthrew Hosni Mubarak in 2011, but has recently held protests against the Islamist-led government.
It is believed Mr Maher is being investigated over a demonstration in March against the interior minister.
Ingi Hamdi, a senior member of April 6, had denounced the arrest and pledged a "tough" response.
"This is part of a series of arrests targeting activists... to undermine their reputation," she said.
Correspondents say youth activists - hailed as heroes in the aftermath of Hosni Mubarak's downfall - has since split into two factions.
It supported President Mohammed Morsi during the June presidential elections but later became increasingly vocal in its opposition to the Islamist leader.
Days before his arrest, Mr Maher had expressed regret for the group's alliance with Mr Morsi and his main backers, the Muslim Brotherhood.
He wrote on the group's website: "Now we are being treated as traitors and our image has been tarnished and we are sent to prisons by those we defended."