Turkey claims evidence of Syrian chemical weapons use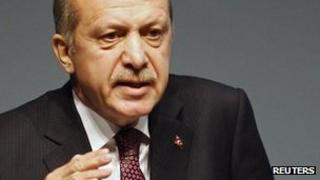 Turkish Prime Minister Recep Tayyip Erdogan has told US media he has evidence that Syria employed chemical weapons against opposition forces.
He cited the discovery of missile remains and Syrian patients showing signs of wounds from chemical weapons.
Similarly, US Secretary of State John Kerry said he now believed there was "strong evidence" of Syria using gas.
The White House previously said it had "varying degrees of confidence" that Syria had used chemical weapons.
Last month, President Barack Obama warned that such a development was a "red line" for possible intervention, but said existent intelligence did not represent sufficient proof.
Mr Kerry's latest remarks, made on Friday during a live video discussion with Google+ users , appeared to strike a more resolute note.
"This fight is about the terrible choices that the Assad regime has made with its willingness to kill anywhere... to use gas, which we believe there is strong evidence of use of," he said.
Red line 'crossed'
Earlier on Friday, Mr Erdogan said he believed Syria had crossed the red line "a long time ago".
He said Turkish intelligence had determined that the Syrian government had used at least 200 chemical missiles.
"We have the remainders of these missiles, there are pictures and then there are intelligence reports," he said.
"And there are patients who are brought to our hospitals who were wounded by these chemical weapons."
He did not give details on the type of chemical weapons he believed Syria had used.
The Turkish leader, who is due to meet Mr Obama next week, called on the US to "assume more responsibilities and take further steps".
Mr Erdogan rejected the idea that the weapons could have been used by rebels.
"How are they going to obtain this? And who will give this to them?" he said.
This contradicted an earlier claim by a UN expert who said there were "concrete suspicions" that rebels used nerve gas.
Carla del Ponte, who serves on the Commission of Inquiry on Syria, said testimony from victims strongly suggested that opposition fighters had used sarin, an extremely potent chemical nerve agent - although there was "no incontrovertible proof".
However, the commission later stressed that it had "not reached conclusive findings" as to their use by any parties.
'Limited but persuasive'
Meanwhile, British Prime Minister David Cameron has held talks in Moscow with Russian President Vladimir Putin, one of Syria's closest allies.
Mr Cameron said the two countries had made "real progress" in discussions he described as "substantive, purposeful and frank".
He said they had a "common interest" in stabilising Syria and preventing the growth of extremism.
Mr Cameron also welcomed a recent agreement by Russia to convene an international conference to find a political solution to the crisis.
The conference will try to persuade Mr Assad and the opposition to accept the establishment of a transitional government.
In a separate development, UN High Commissioner for Human Rights Navi Pillay said there were fears of new mass killings, amid reports that government troops were preparing to attack the rebel-held stronghold of al-Qusair.
Syrian forces allegedly dropped leaflets on the western town, warning that it would come under attack if opposition forces failed to surrender.
The US State Department also said it was concerned about the reports.
"Ordering the displacement of the civilian population under these circumstances is the latest demonstration of the regime's ongoing brutality," a statement said.
Last week, activists accused Syrian troops of carrying out massacres in a campaign of sectarian cleansing in the coastal region of Banias.
More than 70,000 people are believed to have died since the Syrian conflict erupted in March 2011.