Abducted Finns and Austrian man freed in Yemen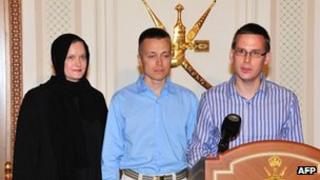 A Finnish couple and an Austrian man abducted in Yemen in December have been freed.
Yemeni tribesmen released the three to Omani authorities late on Wednesday on the border between the two countries, according to Yemeni officials.
Austrian media reported that the three had arrived in Austria and had been taken to a hospital near Vienna.
Many foreigners have been kidnapped in Yemen in recent years. Most have been freed unharmed.
Yemeni officials were quoted as saying a ransom had been paid by Oman for the latest release.
The Austrian hostage, named as Dominik Neubauer, had appeared in a video in February saying that he would be killed within a week if the captors' ransom demands were not met.
In February, a Swiss teacher was freed by her kidnappers in Yemen after nearly a year in captivity, following mediation by the Qatari government. The Swiss government said no ransom was paid.