Israel approves almost 300 new West Bank settler homes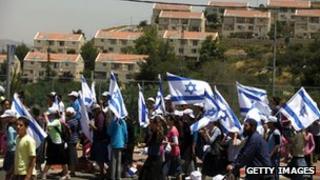 Israel has approved the construction of nearly 300 new Jewish settler homes in Beit El in the occupied West Bank.
The decision is likely to raise tensions as Washington tries to restart peace talks with the Palestinians.
Two days ago reports said Israeli Prime Minister Benjamin Netanyahu had ordered an unofficial freeze on new plans and tenders for building settlements.
Direct talks with the Palestinians stalled in 2010 following a dispute over settlements.
All settlements in the West Bank, including East Jerusalem, are considered illegal under international law, although Israel disputes this.
"Yesterday a civil administration committee gave approval for depositing plans to build 296 apartments in Beit El," said a spokesman for a unit in the Defence Ministry which administers the West Bank.
"This is only the first stage of a process before construction can begin."
The Civil Administration said the new homes were intended as compensation after the Israeli government evicted 30 settler families from Ulpana last June.
The unauthorised outpost on the outskirts of Beit El was declared illegal under Israeli law by the High Court because it was built on privately-owned Palestinian land.
'Destructive to peace'
Beit El is an isolated settlement close to the Palestinian city of Ramallah, the administrative capital for the Palestinian Authority.
An advisor to the Palestinian President Mahmoud Abbas condemned the expansion plans saying they undermined hopes of a two-state solution to the Israel-Palestinian conflict.
"It shows that Israel does not care about the international community or President Obama's visit and the message that settlements are destructive to peace efforts," said Sabri Saidam.
"Israel is determined to kill the geography on which any Palestinian state can come into being."
Speaking on Israel's army radio, the chief negotiator with the Palestinians, Tzipi Livni said she saw the statement about Beit El as she was meeting US Secretary of State John Kerry in Rome on Wednesday afternoon.
"There is no need for this to become a pretext for drama or anger," she said, adding that she had informed the Americans about the development.
"They listened and they understood and for the moment there was no reaction."
Mrs Livni maintained that that there had been "progress on the way to launching negotiations" with the Palestinians.
No 'unofficial freeze'
Details of the plans for Beit El emerged after reports on Tuesday that Mr Netanyahu appeared to have responded to US pressure by issuing an unofficial order to stop new plans for settlement construction.
The Israeli pressure group, Peace Now, confirmed that no tenders had been issued for new settler homes in recent months. A leading settler body, the Yesha Council, confirmed this.
Peace Now said the latest announcement was a blow to peace.
"There was a possible sign of restraint but this new plan makes it clear there is no freeze in construction," says Melanie Robbins from the organisation.
"In fact the decision to promote this building in Beit El is extremely problematic. It will lead to a 33% growth in the settlement."
Mr Kerry is expected to return to Jerusalem and Ramallah on 21 and 22 May for separate talks with the Israeli and Palestinian leaders.
About 500,000 Jews live in more than 100 settlements in the West Bank. Israel has occupied the territory since 1967 and East Jerusalem.