Israel PM Netanyahu 'curbs settlement construction'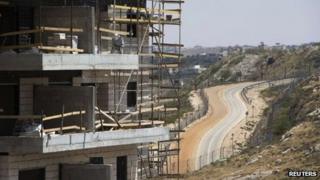 Israel's prime minister has issued an unofficial order to stop the approval of new plans or tenders for Jewish settlement construction in the West Bank, a leading pressure group says.
Peace Now said it appeared Benjamin Netanyahu was responding to US efforts to restart Middle East peace talks.
The Israeli government has neither confirmed nor denied the report.
Direct negotiations with the Palestinians stalled in 2010 following a dispute over settlement construction.
About 500,000 Jews live in more than 100 settlements built since Israel's 1967 occupation of the West Bank and East Jerusalem. The settlements are considered illegal under international law, though Israel disputes this.
'Not a freeze'
After the Palestinians were granted "non-member observer state" status at the United Nations last November, a move which Israel strongly opposed, Mr Netanyahu's government announced plans to build 3,000 new homes in settlements.
But since US President Barack Obama's visit to Israel in March, the government has not announced or approved any new West Bank settlement construction plans, and has not approved any new tenders for settlement construction, according to Peace Now.
Israel's Army Radio reported that an order had been given by Mr Netanyahu in a meeting with pro-settlement Housing Minister Uri Ariel.
The Yesha Council, which promotes settlement construction, also said it had heard from Mr Netanyahu's office that new tenders were not being approved.
"This does not help anything, and it is discriminatory,'' spokesman Yigal Dilmoni told the Associated Press. "We are severely against this.''
When asked to comment on the reports, Mr Ariel told Army Radio: "I do not confirm things that I do with the prime minister. Therefore, I cannot comment on this."
Peace Now said it appeared Mr Netanyahu had "adopted a policy of restraint, possibly to avoid being blamed for undermining Secretary of State John Kerry's efforts to launch a new Israeli-Palestinian political process".
However, Hagit Ofran, the director of Peace Now's Settlement Watch project, noted: "This is not a freeze."
Settlement construction was still taking place at numerous sites, sanctioned by plans and tenders that were approved before Mr Obama's visit, he said.
A spokesman for Palestinian Authority President Mahmoud Abbas also responded cautiously.
"A freeze in settlement construction within the 1967 borders and especially Jerusalem is the basis of starting any genuine and serious negotiations," Nabil Abu Rudeineh told the Reuters news agency. "We must hear Israel state this policy officially."