Situation of children in Iraq 'a neglected crisis'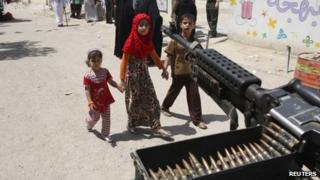 The situation of children in Iraq is "one of the world's most neglected crises", the charity War Child says.
Ten years on from the US-led invasion, violence is increasing, life expectancy is falling and children are falling behind in education, a new report says.
Nearly 700 children and young people were killed in the last five months.
The report warns that Iraq's children are being abandoned as international donors "sign up to the view that the mission has been accomplished".
The UK Department for International Development (DfID) pulled out of Iraq in 2012, and global development assistance fell by $19bn (£12.2bn) between 2005 and 2011, according to War Child.
'Risk of total collapse'
Published on the 10th anniversary of former US President George Bush's "mission accomplished" speech, the charity's report says Iraq "has become one of the worst places to be a child in the Middle East".
Iraq has the second youngest population in the region, with children and young people making up 56% of its 33 million people.
One Iraqi woman told BBC Arabic that children were still exposed to violence on a daily basis and there were no programmes designed to deal with the psychological problems this causes.
Another Iraqi man said: "They are so young and don't have the ability to comprehend what's really happening around them.
"Their lives have become meaningless. They don't know what they are doing. Most of them have become aggressive, even when they play," he told the BBC.
Although it falls into the "middle-income country" category with its significant oil wealth, War Child says there is not enough provision for younger generations who are "directly caught up in and targeted by the conflict in Iraq".
Violence has increased over the past two years and since December, 692 children and young people have been killed and another 1,976 injured in violent attacks, it says.
Children as young as 14 are being used as suicide bombers, and more than a quarter of children are estimated to suffer Post Traumatic Stress Disorder, according to the report.
Iraqi children are falling behind in education, it adds, with fewer than half of 12-17 year olds now attending secondary school and enrolment in primary school higher than before the invasion.
There are also an estimated 35,000 infant deaths every year in Iraq, and one in four children has stunted physical and intellectual development due to under-nutrition.
Describing Iraq as having "fallen off the media map", War Child says the countries that led the 2003 invasion have abandoned its children.
The lack of aid, diplomatic pressure on Iraq's government and support for its people is "bringing the future generation down", it claims.
With intensifying violence, the charity calls on international donors to help strengthen civil society in Iraq so the government can be held accountable over provision of services.
"With the growing political differences, violence and lack of security, as well as the regional tensions created by the Syria conflict, there is a general and an inevitable risk of total collapse of the state of Iraq," War Child UK's country director in Iraq warns.