Obama voices Syria chemical weapons concern to Putin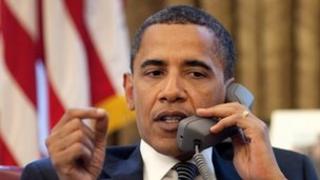 US President Barack Obama has voiced concern to his Russian counterpart Vladimir Putin about reports that Syria has used chemical weapons.
In a phone conversation, the two leaders agreed to stay in touch on the issue, tasking their foreign ministers to hold further talks.
The US earlier said it had "varying degrees of confidence" that chemical weapons had been used in Syria.
The government in Damascus have denounced the claims as "lies".
'Game changer'
In a statement, the White House said on Monday that Mr Obama and Mr Putin talked on the phone on Monday, with the US leader "underscoring his concern over Syrian chemical weapons".
Washington has repeatedly criticised Russia - along with China - for blocking tougher action against Syria in the UN Security Council, including new sanctions.
Mr Putin and Mr Obama are scheduled to hold a face-to-face talks in June.
Mr Obama last week promised a "vigorous investigation" into the issue.
He warned that it would be a "game changer" for US policy if the reports about chemical weapons were to be proved true.
Both the US and UK have pointed to emerging evidence that Syria has used weapons such as the nerve gas sarin.
The Syrian government has dismissed claims that its forces have used chemical weapons, saying that the Western accusations "do not have any credibility".
More than 70,000 people have been killed since fighting between Syrian forces and rebels erupted in March 2011.