Iraq police and gunmen die in Mosul clashes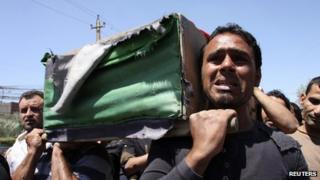 At least 10 policemen and 30 gunmen have died in clashes in Mosul as anti-government protests continue in Iraq's Sunni-dominated areas.
Sunni protests erupted on Tuesday when the army raided an anti-government protest camp in Hawija, near Kirkuk.
Earlier, anti-government gunmen seized the Sunni town of Suleiman Beg after clashes with Iraqi security forces.
Iraq's Defence Ministry said a police station was taken over by the gunmen, who have deployed in the streets.
Thursday's fighting followed fierce clashes in the town on Wednesday, which led to the deaths of four soldiers and 12 others.
Prime Minister Nouri al-Maliki has called for calm, urging Iraqis to stand up against extremists.
"If [sectarian] conflict erupts, there will be no winner or loser," said Mr Maliki in a televised address. "All will lose, whether in southern or northern or western or eastern Iraq."
'Tactical withdrawal'
In Mosul, at least three Iraqi policemen were killed in clashes overnight, as gunmen reportedly seized western parts of the city using a mosque loudspeaker to rally Sunnis to join the battle.
On Thursday, military officials say they had regained control of most of the area, with a curfew imposed on the western side of the city.
The small town of Suleiman Beg lies on the road that links Baghdad and Kirkuk, which is now blocked.
The army had made a tactical withdrawal from the town "so we can work on clearing the area completely, after we knew that the residents had left", a high-ranking officer told AFP news agency.
"We will clean the region corner by corner, and we will not allow any attack against the safety of citizens."
However, the BBC's Rafid Jabboori said an attempt by government forces to recapture Suleiman Beg had failed.
Local official Shalal Abdul Baban said the army was deploying reinforcements on the outskirts of the town.
Anti-government unrest
Separately, militants also partially blew up a pipeline carrying crude oil from the city of Kirkuk to Turkey's Mediterranean coast on Thursday, Iraq's North Oil Company and Oil Ministry told Reuters.
Two Sunni ministers said they were resigning in protest over Tuesday's raid, which has led to the worst violence between security forces and Sunni protesters in recent months.
The Hawija incident was a significant development in the months-long protest movement in the Sunni cities in Iraq, the BBC's Baghdad correspondents says.
He says the Shia-led government of Mr Maliki has tried to calm the situation by setting up an inquiry into the Hawija incident and appointing Sunni Deputy Prime Minister Saleh al-Mutlag as its chairman.
The families of the Hawija casualties will be compensated, he adds, but this will unlikely pacify the widespread resentment in the Sunni community.
Tens of thousands of Iraqis in Sunni-dominated areas have been protesting against Mr Maliki, accusing his government of discriminating against them.
The government denies the accusations and says that protesters have been infiltrated by militant groups.
With its massive oil reserves, Kirkuk - home to a mixture of Arabs, Kurds and Turkmen - is one of the most bitterly contested of Iraq's disputed territories.
The Kurds want to incorporate it into their largely autonomous region, while Arabs and Turkmen oppose any change to its current status, ruled directly from Baghdad.
Meanwhile, Iraq is currently awaiting the results of provincial polls held on 20 April - the first elections since the last US troops withdrew at the end of December 2011.
There was widespread violence before the polls. Dozens were killed in bombings targeting mainly Shia areas last week, and 14 candidates, most of them Sunnis, were murdered.
The government said on Tuesday it would hold delayed votes in two Sunni-dominated provinces, Anbar and Nineveh, on 4 July.