Iraq violence: Baghdad hit by deadly car bomb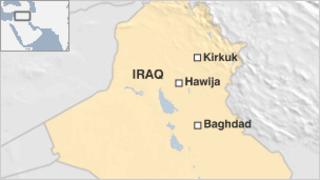 At least seven people have been killed and more than 20 injured in a car bomb attack in the Iraqi capital, Baghdad.
Security officials say the bomb exploded near a bus stop in the mostly Shia Muslim district of al-Husseiniyah.
No group has so far said it carried out the attack, which comes amid heightened tensions between Sunnis and Shias in Iraq.
In one incident on Wednesday, armed Sunnis are reported to have sealed off an entire town.
All roads leading to the predominantly Sunni town of Qara Tappah, about 120km (75 miles) north-east of Baghdad, were blocked by armed tribesmen, AP news agency reported.
Iraqi troops arrived to try to clear the town and fighting broke out, leaving 15 gunmen and seven soldiers dead, according to police.
On Tuesday, more than 20 people were killed in clashes between security forces and Sunni Arab protesters in the north of Iraq.
Violence erupted when security forces raided an anti-government protest camp in Hawija, near Kirkuk.
Kirkuk - home to a mixture of Arabs, Kurds and Turkmen - is one of the most bitterly contested of Iraq's disputed territories.
Tens of thousands of Iraqis in Sunni-dominated areas have been protesting against Prime Minister Nouri al-Maliki - a Shia - accusing his government of discriminating against them.
The government says the protesters have been infiltrated by militant groups.