Syria has used chemical weapons, Israeli military says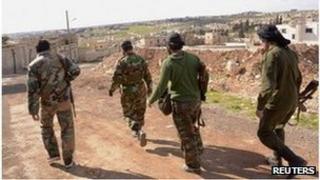 A senior Israeli military official has said Syrian forces have used chemical weapons against rebels several times.
Brig Gen Itai Brun said military intelligence believed the nerve agent sarin had probably been used "in a number of incidents".
The US has said it would not tolerate the use of chemical weapons in Syria.
But US Secretary of State John Kerry said Israeli PM Benjamin Netanyahu had not been able to confirm Brig Gen Itai Brun's claim to him.
Syria's government and rebels have accused each other of using chemical weapons. A UN team is trying to enter Syria to investigate.
Facts unclear
Speaking at a security conference in Jerusalem, Gen Brun said: "To the best of our professional understanding, the regime has made use of deadly chemical weapons against the rebels in a number of incidents in the past."
He said photographs of victims foaming at the mouth and with constricted pupils and other unspecified symptoms "provide evidence that deadly chemical weapons have been used".
"Which chemical weapons? Apparently sarin. The regime is also using chemical weapons that neutralise and are not fatal," he said.
There has so far not been any confirmation that chemical weapons have been used during Syria's two-year-old conflict although there have been numerous accusations.
Mr Kerry said he had called the Israeli prime minister seeking confirmation chemical weapons had been used by the Syrian regime, adding that Mr Netanyahu "was not in a position to confirm that... I do not know yet what the facts are."
Last month, the Syrian government and rebels accused each other of using chemical weapons in an incident in Khan al-Assal in Aleppo province.
A UN team is waiting for permission from Syria to enter the country to investigate the claims.
Syria is believed to possess large amounts of chemical weapons and there has been heightened concern among the international community in recent months about the safety of the stockpiles.
On Monday, US Defence Secretary Chuck Hagel said on a visit to Israel that the use of chemical weapons by Syria against its people would be a "game-changer".
His remarks echoed a warning by President Obama in December that Syrian President Bashar al-Assad would face "consequences" if he used such weapons.
Syria has repeatedly said it would never use chemical weapons against its own citizens.