Bahrain activist Nabeel Rajab 'denied medical treatment'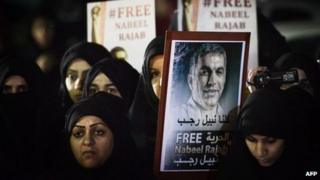 The wife of jailed Bahraini human rights activist Nabeel Rajab says he is being denied medical treatment for a back injury.
Sumaya Rajab told the BBC that prison officials had repeatedly refused requests to send him to hospital.
Mr Rajab has served 11 months of a two-year sentence for encouraging "illegal gatherings".
The 48-year-old has been a leader of the pro-democracy protests which have rocked the kingdom since February 2011.
Mr Rajab, head of the Bahrain Centre for Human Rights, has more than 200,000 followers on Twitter.
His wife, Sumaya, said he had told her he was experiencing back pain so severe that at times he could not move but that requests for him to be taken to hospital and examined by a specialist had been refused.
"They tell him to take some exercise and give him a tablet for the pain, that's all they do," she said.
According to Ms Rajab the back injury dates from a beating her husband sustained at the hands of the police in 2005. At that time, she said, he spent a week in hospital recovering from the effects of the beating.
No-one from Jaw prison where Mr Rajab is being held was available for comment.
Another activist Zainab al-Khawaja, who was jailed for three months in March, has been denied access to her family for refusing to wear prison issue clothes.
Her father Abdulhadi al-Khawaja who received a life sentence for plotting the overthrow of the government on evidence that is widely accepted as having been secured under torture has also been refused family visits on the same grounds.