Fresh Bahrain clashes ahead of Formula 1 race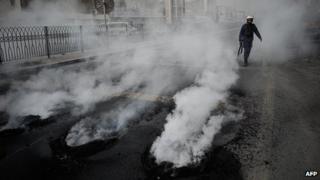 Fresh clashes have erupted in Bahrain ahead of this Sunday's F1 race in the Gulf kingdom.
Activists have demanded the race be cancelled due to the country's poor human rights record.
But Formula 1's governing body has defended the race, saying it could have a healing effect.
For the past two years members of the Shia majority have been protesting against what they say are human rights abuses by the ruling Sunni minority.
A source in the capital Manama told the BBC that security forces were firing tear gas in a bid to stop protesters reaching a major motorway, the Budaiya highway.
Protesters are reported to be blocking roads with barricades made of burning tyres.
The Bahrain Centre for Human Rights said 13 people had been arrested and that clashes were continuing in villages close to the Sakhir track, the site of the F1 race.
A centre spokesperson said police were firing tear gas and birdshot against protesters in the towns of Sitra and Diraz.
Correspondents say the continuing unrest will be seen as a setback for the interior ministry which is trying to prevent tourists and F1 fans from being affected by the protests.
The latest clashes come after days of escalated tensions.
On Tuesday, police fired tear gas and clashed with students in a raid on a secondary school in the capital, Manama.
Officers stormed the Jabreya school for boys after students staged a protest demanding the release of a colleague arrested on Monday, activists say.
On Sunday a car bomb blew up in the heart of the financial district in Manama, though without causing injuries.
The main opposition society in Bahrain , Al Wefaq, has called for a major protest on Friday, reports the BBC's Bill Law.
Khalil al Marzooq, a senior Al Wefaq leader, said they would not call for protests on the day of the race.
Mr Marzooq also urged all protests to be peaceful.
"We do not support any violence either from security forces or protesters," he said.
While Al Wefaq and other opposition groups repeat their calls for peaceful protest, angry youths are still routinely taking to the streets armed with Molotov cocktails.
There have been almost daily clashes in Bahrain since security forces used birdshot and tear gas to quash a three-day-old peaceful protest at Manama's Pearl Roundabout on 17 February 2011.