Syria crisis: UN issues rare joint appeal for action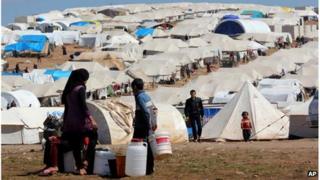 The heads of five major UN agencies have issued a rare joint appeal to the international community to do much more to end "cruelty and carnage" in Syria.
In a statement, the chiefs of the WHO, Unicef, Ocha, WFP and UNHCR urged political leaders to use their influence to solve the crisis.
They said they were appealing for "something more important than funds".
The UN says at least 70,000 people have been killed and 1.2 million left homeless since the conflict began.
The agencies criticised what they described as "an insufficient sense of urgency among the governments and parties that could put a stop to the cruelty and carnage in Syria".
They said that as humanitarian organisations, they had been doing all they could to help those affected by the fighting by providing shelter, food and other basic necessities, "but it has not nearly been enough".
"The needs are growing while our capacity to do more is diminishing," the statement said.
The groups said that because of insecurity and funding difficulties, "we are precariously close, perhaps within weeks, to suspending some humanitarian support".
'Enough!'
Earlier this month, one of the agencies, children's charity Unicef, said it would soon be unable to provide "life-saving" aid to Syrian refugees in Jordan and other countries due to funds running out.
About 385,500 Syrians have fled to Jordan since the violence began in March 2011, and the charity said the number was likely to triple by the end of the year.
Unicef says it has only received $12m (£7.8m), or 19%, of the $57m needed to fund its operations in Jordan.
But the joint statement said the latest appeal was "not for more resources, needed as they are".
"We are appealing for something more important than funds. To all involved in this brutal conflict and to all governments that can influence them:
"In the name of all those who have so suffered, and the many more whose futures hang in the balance: Enough! Summon and use your influence, now, to save the Syrian people and save the region from disaster. "