Syria conflict: UK concerns over chemical weapon use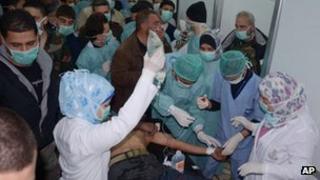 The UK is increasingly concerned there is evidence that chemical weapons have been used in Syria.
Foreign Secretary William Hague said the claims must be investigated and the perpetrators held to account.
Meanwhile, soil samples gathered from random sites in Syria, have been smuggled to the UK for testing, British intelligence sources told the BBC.
The evidence suggests "some use of chemical weapons"' but it is not clear by which side, the sources said.
Syria is believed to have stockpiles of mustard gas and the highly toxic nerve agent sarin.
Only a handful of countries have failed to sign the Chemical Weapons Convention (CWC) which internationally bans their use. Syria is one of them.
'World is watching'
Facing questions from ministers in the House of Commons, Mr Hague said he could not comment on intelligence matters.
But he welcomed the UN secretary-general's announcement of an investigation into the allegations and called on the Syrian regime to co-operate fully, allowing the UN team unfettered access.
"They should take heed that the world is watching and those who order the use of chemical weapons or participate in their use must be held to account," he said.
The British Foreign and Commonwealth Office told the BBC that it believed credible reports that such weapons "have been used by the regime in a number of urban location in tactical military engagements".
A team of UN-led experts is in Cyprus awaiting permission to enter Syria.
The focus of the inquiry will be on an incident last month in Khan al-Assal, Aleppo province.
Damascus says rebel forces used chemical weapons, but rebel commanders have accused government forces of carrying out the attack, citing reports of victims suffering breathing difficulties and bluish skin.
If verified, it would be the first incident of chemical weapons use in the two-year conflict, thought by the UN to have claimed more than 70,000 lives.
The BBC's security correspondent Frank Gardner says the British government has provided technical training to the team, whose mission has been delayed by diplomatic wrangling over access and their security.
Damascus has rejected demands by the opposition that the inspectors be allowed to visit other locations where rebels also accuse government forces used chemical weapons.
US President Barack Obama has said that the use of chemical weapons by Bashar al-Assad's government would mark "a red line", the crossing of which would have significant consequences.
The UN Security Council is acrimoniously divided over the Syrian war, after Russia and China repeatedly opposed resolutions that sought to step up the pressure on Bashar al-Assad's government.
Russia has welcomed the UN investigation, but argues it should be limited to the Khan al-Assal incident.