What next as Palestinian PM Salam Fayyad resigns?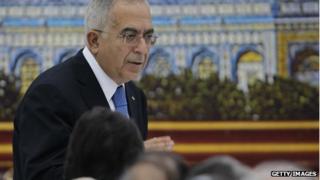 Salam Fayyad, the Palestinian prime minister in the West Bank - now caretaker prime minister - is no stranger to resignation.
When the 61-year-old again announced he was quitting on Saturday night, it was at least the third time he had resigned since he was first appointed to the job in 2007.
That is not to mention all the threats of resignation over the past six years.
And yet Mr Fayyad is still doing the job, at least in a "caretaker" role.
Such had been the extent of unfulfilled rumours of his demise, most Palestinians might have been entitled to raise a sceptical eyebrow when they heard over the weekend that this time he really was going.
But is he?
On the face of it, it would seem yes.
Temporary measure
The Palestinian Authority President Mahmoud Abbas accepted Mr Fayyad's offer to go and said he would quickly begin the process of appointing a new prime minister.
Initially, President Abbas's office said a new appointee would be named within a matter of days.
The projected timespan has already officially increased to two to three weeks and privately Palestinian officials are saying it could take up to two months.
Until then, it would seem Mr Fayyad will have his feet under the prime ministerial desk.
"Plus ça change, plus c'est la même chose," (the more things change, the more they stay the same) says Ahmad Aweidah, the multi-lingual chief executive of the Palestinian Stock Exchange.
"Let's wait two or three weeks. In fact, lets wait two to three years, I imagine Mr Fayyad might still be in the job," he says.
"People forget that Salam Fayyad was already a caretaker prime minister at the head of a caretaker government and has been for years."
He's referring to the fact that when Mr Abbas first appointed Mr Fayyad almost six years ago it was only ever meant to be as a temporary measure.
It followed the national emergency created by the violent conflict between the two main Palestinian factions Fatah and Hamas that erupted in 2007.
That division left the Islamist movement Hamas to govern in Gaza and its secular rivals Fatah in power in parts of the West Bank.
Salam Fayyad's appointment was never approved by the Palestinian parliament, which has been unable to sit since the Fatah-Hamas split.
Mr Fayyad, who's an independent politician, is not well liked by supporters of either Fatah or Hamas, the two movements that dominate Palestinian politics.
'Frustrated'
In March 2009, Mr Fayyad resigned in order to pave the way for a government of national unity in an effort to end the political division.
The unity never came and he kept his job.
In 2011 after a reconciliation deal was signed between Fatah and Hamas, it was announced that a new interim government of technocrats would be formed in order to prepare for the fresh parliamentary and presidential elections.
The new government was never formed (Fatah and Hamas couldn't agree who to put in it) and the long overdue elections never happened either.
Salam Fayyad again kept his job.
Some though believe he has now had enough.
Those close to him say Mr Fayyad has become increasingly frustrated with Fatah officials and others within the government trying to undermine him.
There are said to be disagreements with Mr Abbas over the handling of the struggling Palestinian economy.
One Palestinian official told me he believes Mr Fayyad has bigger ambitions, possibly to replace Mr Abbas, and wants to leave the job of prime minister in order to try and build his personal popularity.
If he is to go, it would be a serious blow to the United States, which has recently re-launched efforts to try to breathe life into a comatose Israeli-Palestinian peace process.
Mr Fayyad, a US-educated economist and a former official at the International Monetary Fund, is widely perceived as being a moderate whom America and the international community could work with.
The prime minister met with President Barack Obama just last month and with the American Secretary of State John Kerry as recently as last week.
Mistake
It's hard to believe that his resignation was part of the US plan.
"Would I prefer that he weren't leaving? Sure, because you have continuity," Mr Kerry told reporters this week.
"We will continue to work with this, and hope that President Abbas finds the right person to work with him in a transition and to work with us, and establish confidence."
But last week, State Department officials were reportedly hitting the phones to Ramallah trying to get Mr Fayyad to stay.
One Palestinian official, who did not want to be named, told me the Americans had handled things badly if they wanted Mr Fayyad to remain in the job.
"On the contrary, the American strategy didn't help Fayyad. They made a mistake."
He said that by so publicly declaring their support for the prime minister and declaring him "their man", they made it difficult for President Abbas to keep him without appearing to be "in the pocket" of the Americans.
Ahmed Aweidah agrees.
"Abbas had to act so as not to be seen as a US lackey," he says.
A Palestinian official also said the US support came too late.
"Over the years the West supported the status quo but they never supported what Salam Fayyad wanted: the end of Israel's occupation."
Problematic
President Abbas now faces some choices.
He could, as has been suggested before, take on the role of both president and prime minister himself as part of a unity government aimed at finally ending the dispute with Hamas.
But there's no guarantee that Hamas would accept that.
It would presumably require Hamas's prime minister in Gaza, Ismail Haniyeh, to also resign and the setting of a date for future Palestinian elections.
But up until now, neither Hamas nor Fatah has been able to agree when and how those elections should take place. Alternatively, Mr Abbas could signal a shift away from unity efforts by appointing a replacement for Mr Fayyad who would only have authority in the West Bank.
Among those who have been named as possible candidates are Mohammad Mustafa, an economist who heads the Palestinian Investment Fund, and Rami Hamdallah, the president of a Nablus University in the West Bank.
Muhammad Shtayyeh, a Fatah official has also been suggested by some.
But Ahmad Aweidah says all those choices would be problematic.
"He cannot appoint a PM exclusively to the West Bank. This would send signal the end of Palestinian unity efforts."
And Mr Aweidah says Mr Fayyad's resignation poses another problem for Mr Abbas.
"Salam Fayyad has been the punch bag to take all the criticism especially over handling of the economy," says Mr Aweidah.
"Its extremely convenient for the Palestinian Authority to have a punch bag to take the blows."
So the deliberations for President Abbas could take time.
It will be interesting to see how long Salam Fayyad remains in his caretaker prime minister role and whether he'll continue to take the blows.