Syria calls on UN to recognise rebels' al-Qaeda links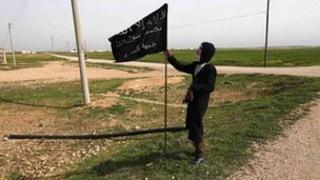 Syria has urged the United Nations Security Council to class the al-Nusra Front as a group linked to al-Qaeda.
The Syrian foreign ministry made the call in a letter to the UN, according to the Syrian state news agency.
The letter said Syria expected the Security Council "to fulfil its role in preserving global security".
On Wednesday the front, a jihadist group fighting the Syrian regime, pledged allegiance to the leader of al-Qaeda, Ayman al-Zawahiri.
The Syrian statement refers to the UN resolution that established the al-Qaeda Sanctions Committee.
Under the UN's sanctions regime, those with links to al-Qaeda have their financial assets frozen and face travel bans.
The sanctions also imposed an arms embargo on al-Qaeda.
'Terrorist organisation'
Though there is backing for the Syrian opposition, there is also growing concern among Western leaders about weapons reaching al-Nusra and other jihadist groups.
The US has designated al-Nusra as a terrorist organisation.
"The sons of al-Nusra Front pledge allegiance to Sheikh Ayman al-Zawahiri," Mr Jawlani said in a recording released on Wednesday.
The al-Nusra statement assured Syrians that the "good behaviour" they had experienced from the front on the ground would continue unchanged.
Al-Nusra is seen as trying to win the support of the population in rebel-held areas, and also to keep the goodwill of the other opposition groups who do not want to be associated with al-Qaeda.
The Free Syrian Army, considered the main armed opposition group in Syria, reacted to Wednesday's statement by distancing themselves from al-Nusra.
"We don't support the ideology of al-Nusra," FSA spokesman Louay Meqdad told the AFP news agency.