Iraq struggles to solve electricity crisis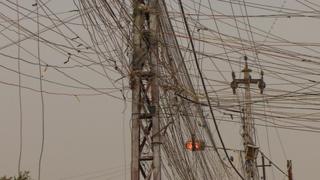 Thick clusters of electric wires hang low from tilted wooden poles, winding their way through Baghdad's alleyways to distribute privately generated electrical power.
It is one of the most common scenes across Iraq's urban landscapes and seems to reflect much of what is wrong with the country's electricity sector - crumbling infrastructure, unreliable services, and a tangled web of bureaucracy and corruption.
But all of that will soon be history, according to the Ministry of Electricity.
"Fourteen gas turbine stations are being built in addition to four new ones that are already generating power," said ministry spokesman Musaab Mudarres.
"We will enter the summer with 12,000 megawatts of capacity, and people will need private generators for only a few hours a day."
Poor maintenance
Many Iraqis pay two bills for electric power - one to the government and another to owners of private generators. Ten years after the war, the power supply still falls short of demand.
The Ministry of Electricity blames other government departments, including the ministries of Planning and Water Resources, for many of its problems.
Mr Mudarres says efforts to install underground distribution lines in urban areas have been delayed because the Ministry of Planning has not provided the necessary maps.
And across Iraq, hydroelectric power plants are operating below capacity because the Ministry of Water Resources has not provided proper maintenance of dams, he says.
But his most bitter complaints are reserved for the Ministry of Oil, which most of Iraq's power plants rely on for fuel.
Mr Mudarres says poor maintenance of pipelines and delays in developing oil fields have caused gaps in generation at many new plants.
"We understand the pressure they are under, as most of the country's revenues come from oil exports", he said. "But we need fuel for our power plants as well."
Importing oil
At the South Baghdad gas turbine power plant, fuel is certainly in high demand. The containers here can store up to five million litres of heavy fuel oil, the thick black residue that remains after crude oil has been refined and other products extracted.
It is used in making asphalt but here, they burn it to power turbines and generate electricity.
"It causes a great deal of pollution, and affects the turbines," said Rafea Salman, the engineer in charge of the plant.
"We have to switch off our generation units once a week to wash the blades."
Even worse, heavy fuel oil incurs additional expenses on the plant. Dozens of barrels line the road leading up to the containers. They are full of chemicals needed to treat the fuel so it could be used to power the turbines.
A whole section of the power plant is dedicated to the treatment process, including a lab to test the final product before use.
The plant also uses lighter oil products, but many of these have to be imported because Iraq's refineries cannot keep up with domestic demand.
"We import around four million litres a day of gasoil from Iran because the Ministry of Oil is not giving us what we need," says Mr Mudarres.
"It's a thorny business," he told me. "There has been a lot of corruption involving the companies contracted to transport the fuel. We used to receive lower quality fuel than what we bought, and in smaller quantities than agreed."
Corruption
In 2012 the Ministry of Electricity decided against renewing the contracts. Now the Ministry of Oil imports the fuel products on behalf of the Ministry of Electricity and delivers them to the power plants.
Does that mean corruption has been eliminated?
"Not necessarily", he said, "but it wouldn't have anything to do with us. Committees from the Ministry of Oil are present in every one of our power plants. They are in charge of delivery, and we deal directly with them."
Some of the problems might be resolved if Iraq started making better use of its natural gas, considered the best fuel for power plants.
But a lot of Iraq's natural gas is still being flared and production is a long way from meeting demand.
Once again, Iraq turns to Iran for help.
"By the end of June Iran will provide us with 25m cubic metres a day of natural gas to feed three stations," said Mr Mudarres.
Empty promises?
Not all plants need fuel to burn; Iraq is about to experiment with solar and wind energy. The Ministry of Electricity plans to set up generation units in 14 remote areas, many of them along the country's borders.
The plan would benefit communities that are well out of reach of national distribution lines, and serve as a pilot project.
"We want to test the possibility of expanding renewable energy. The next step would be to increase generation from solar and wind projects to 400 megawatts, or two percent of the energy mix," said Mr Mudarres.
For years, Iraqi officials have been making promises of drastic improvements in power generation, but few of them have been kept.
The deal to import natural gas from Iran was signed in 2011 but the pipelines have not been completed and no gas has crossed the border.
And some of the plans to increase efficiency in the power sector rely on improvements in the oil sector which are also not guaranteed.
In this context, the new promises seem bold and ambitious.
"By the end of 2013, the crisis will be over for households and we'll have electric power around the clock across the country. By the end of 2014, we will have met industrial demand as well," said Mr Mudarres.
As he spoke, Baghdad was still delighting in a cool spring breeze. But it will only be a few more weeks before the unforgiving summer sun beats down on Iraq and people switch on their air-conditioners. As demand peaks, the promises will be tested.