Iran unveils uranium activities at Saghand and Ardakan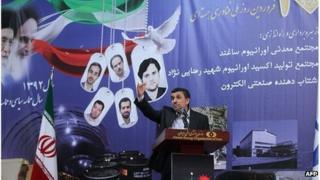 Iran says it has begun operations at two uranium mines and a uranium ore processing plant, furthering its capacity to produce nuclear material.
Low-grade uranium ore will be extracted at the Saghand mines and turned into purer uranium, known as yellowcake, at nearby Ardakan.
It can then be enriched - a process which the West wants Iran to curtail.
The announcement comes days after talks between Iran and major powers over the nuclear crisis failed to make progress.
Tehran insists its enrichment activities are solely for civilian purposes, while the international community suspects Iran wants to be able to use it for nuclear weapons.
The Saghand uranium mine and Ardakan facility are the largest in the country and will be able to produce 60 tonnes of yellowcake a year, state television said.
The BBC's diplomatic correspondent, Jonathan Marcus, says the exploitation of these mines underscores Tehran's determination to master and operate the full scope of the nuclear fuel cycle from uranium extraction, processing, enrichment and ultimately the manufacture of nuclear fuel.
The announcement, coming in the wake of the failure of the latest diplomatic effort to engage with Iran on its nuclear programme, is evidence yet again that Tehran intends to stick to the path that it has already chosen, he adds.
On-off talks between Iran and the so-called P5+1 group (the US, Russia, China, the UK and France - plus Germany) resumed this month but broke up without agreement.
Iran says it needs enriched uranium for its Bushehr nuclear power plant to generate electricity, and to produce medical isotopes. International powers want it to stop enriching uranium to a level of 20%, which can then be more easily enriched to weapons-grade level.