Hebron clashes follow Maysara Abu Hamdiyeh funeral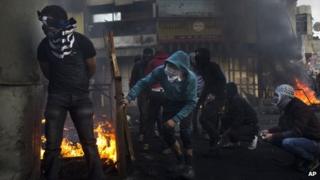 Palestinian protesters have clashed with Israeli troops in the West Bank city of Hebron following the funeral of a prisoner who died in an Israeli jail.
Soldiers used tear gas and rubber bullets - protesters threw stones.
The clashes began after thousands took to the streets to mourn the death of Maysara Abu Hamdiyeh, who died of cancer in an Israeli jail.
Palestinian officials have accused Israel of medical negligence - Israel says care was provided.
Abu Hamdiyeh was serving a life sentence for a failed bombing attack on a Jerusalem cafe in 2002. Palestinians say he should have been released on compassionate grounds and the death has sparked protests across the West Bank.
Thursday also saw the funerals of two Palestinian teenagers killed by Israeli forces on Wednesday during clashes between soldiers and youths.
Their bodies, wrapped in Palestinian flags, were carried through their hometown Anabta, where shops and schools remained closed in mourning.
The teenagers, named locally as Amer Nassar and his cousin, Naji Balbisy, were shot after Israeli troops opened fire on Palestinians who threw firebombs at a guard post in Tulkarem, in the northern West Bank.
Israel's army said the incident was being investigated.
Talks in jeopardy
Palestinian President Mahmoud Abbas said the deaths jeopardised "US and international efforts to restart negotiations".
He also criticised Israel for continuing to use force to suppress what he described at peaceful protests.
Palestinian officials claim Israel did not provide the 64-year-old with adequate medical care and failed to release him after diagnosing that his illness was terminal.
Israeli officials say the procedure to allow his release on medical grounds had begun.
On Wednesday, the Israeli health ministry released the results of a post-mortem examination on Abu Hamdiyeh. This found a cancerous growth in his throat and secondary cancerous growths in his neck, chest, lungs, liver, and spinal cord.
The head of the Palestinian Pathological Institute also participated in the examination, a spokesman said.
The rise in tension and violence comes days before US Secretary of State John Kerry is scheduled to visit Jerusalem and Ramallah to try to press for a revival in negotiations that broke down in 2010.
The Israeli military said that several rockets were fired in Gaza early on Thursday. One crossed into Israel, causing no injuries.