Palestinian prisoners in Israeli jails protest death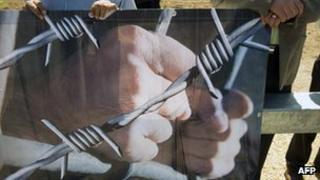 Israeli prison guards have fired tear gas to stop disturbances among Palestinian prisoners after a Palestinian inmate died from cancer.
Palestinian officials claim that Israel did not provide adequate medical care for Maysara Abu Hamdiyeh, who was 64.
The Israeli Prisons Service (IPS) says he was well looked after and died in a public hospital in Beersheba.
The parole board was asked to consider his release but had not processed the case by the time of his death.
Following the announcement of Abu Hamdiyeh's death, Palestinian prisoners in several Israeli jails began banging on their cell doors and throwing objects around.
In Ramon Prison, tear gas was used to stop the protests although the situation is now under control. The IPS says that six prison guards and three Palestinian inmates were treated in the jail's clinic.
The Palestinian Authority President Mahmoud Abbas is said to have tried to intervene personally to have Abu Hamdiyeh released after it became clear that his illness was terminal.
"The Israeli government is responsible for the martyrdom of prisoner, Maysara Abu Hamdiyeh," said a statement by Nabil Abu Rudeina, a spokesman for Mr Abbas.
"The continued detention of the prisoners and medical neglect leads to dangerous implications."
Tensions running high
Other Palestinian officials accused Israel of denying proper, timely medical care to Abu Hamdiyeh, claiming that his cancer had been left to spread.
"The prisoner was diagnosed with cancer of the oesophagus in February of this year and was under the medical supervision of experts at the hospital," read a statement by the Israeli prison authority.
"About a week ago, following the determination that it was a terminal illness, the IPS turned to the release committee to apply for early release, a procedure which started and didn't finish."
Maysara Abu Hamdiyeh, from Hebron in the occupied West Bank, was serving a life sentence for attempted murder for his role in a foiled attempt to bomb a cafe in Jerusalem in 2002.
The issue of Palestinian political prisoners in Israeli jails is an emotive one for Palestinians. Inmates are generally highly regarded despite the reasons for their detention.
Tensions have recently been running high as several Palestinian prisoners have been on intermittent hunger strike.
As of December 2012, Israel held 4,517 Palestinians in its jails.
Of these 1,031 were being held until the conclusion of legal proceedings, 178 were in administrative detention without trial or charge.