Hamas in mixed-sex school ban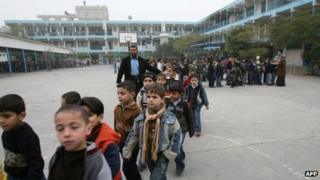 Hamas, the Islamist militant group that governs the Gaza Strip, is to introduce a law banning mixed-sex schools for all children over the age of nine.
In practice, virtually all schools in the Palestinian territory are already segregated at that age.
The law appears largely to be aimed at asserting Hamas's Islamist credentials, says the BBC's Jon Donnison in Ramallah.
The vast majority of schools in Gaza are run by either Hamas or the UN.
All of those are already segregated after the age of nine, says our correspondent
There are a handful of private schools where boys and girls are taught together: In theory, the new law will mean that is no longer possible.
Our correspondent says it remains to be seen if Hamas will enforce the legislation.
In the past, Hamas has approved laws aimed at appealing to conservative elements in Gaza: Banning men from cutting women's hair or forbidding women from smoking water pipes are two examples. But in those cases the laws were never fully enforced.
The majority of Palestinians in Gaza and the West Bank accept segregated education as part of their culture, our correspondent says.
As such, the new law in Gaza will likely receive little opposition while at the same time allowing Hamas to dampen criticism from more conservative Islamists who believe the government is too moderate, our correspondent adds.
Israel, as well as the United States and the European Union, regard Hamas as a terrorist organisation.