Russia anger at Syrian Arab League opposition seat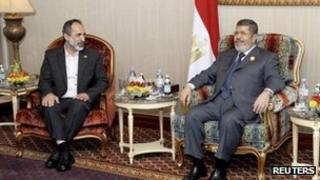 Russia has criticised the Arab League's decision to allow Syria's main opposition coalition to take the country's official seat at its summit.
In a statement, Moscow described the move as "yet another anti-Syrian" step and illegal under international law.
Russia's statement followed similar disapproval from Iran, which said it was "dangerous behaviour".
Meanwhile, President Bashar al-Assad called on the emerging "Brics" nations to seek an end to the Syrian conflict.
In a letter to South African President Jacob Zuma released by Syrian state media on Wednesday, he said Brazil, Russia, India, China and South Africa should push for a political solution to the crisis.
On Tuesday, Ahmed Moaz al-Khatib, of the Syrian National Coalition, said assuming the Arab League seat had "restored legitimacy".
Mr al-Khatib, who has already said he wants to resign as head of the coalition, was applauded as he formally assumed the seat at the summit in Qatar.
Later, the Arab League authorised member states to give military support to Syrian rebel groups.
A resolution said the summit affirmed the "right of every state to offer all forms of self-defence, including military, to support the resistance of the Syrian people and the Free Syrian Army".
'Dangerous pattern'
The Arab League decision met with a strongly worded response from Russian foreign ministry spokesman Aleksandr Lukashevich.
"We are talking about open encouragement of forces which, unfortunately, continue to bet on a military solution in Syria without taking a look at the pain and suffering of Syrians, which is growing from day to day," he said on Wednesday.
"In terms of international law, the decisions taken by the Arab League in respect of Syria are illegal and void because the government of the Syrian Arab Republic was and will remain the legitimate representative of the UN member state."
Moscow's disapproval was echoed in Tehran, where officials and Iranian media also criticised the Arab League's move.
"Assigning Syria's seat to the Arab League to those who don't have the backing of the people establishes a pattern of dangerous behaviour for the Arab world," news agency Isna quoted deputy foreign minister Hossein Amir Abdullahian as saying.
"These actions will bring an end to the organisation's role in the region," he said.
Both Russia and Iran have steadfastly backed Syrian President Bashar al-Assad during the escalating two-year conflict.
At least 70,000 people are now thought to have died since the anti-Assad uprising began in 2011.
In Damascus, President Assad issued a call for the so-called Brics nations to push for an end to the violence in Syria as they held their own summit in Durban, South Africa.
"I call on the Brics leaders to work together to immediately stop the violence in Syria in order to guarantee the success of a political solution," he wrote in a letter to Mr Zuma.
"You, who seek to bring peace, security and justice to today's troubled world, [must] focus all your efforts on ending the suffering of the Syrian people," the Syrian president added, saying economic sanctions hurt civilians as much as violence did.
Islamist worry
The National Coalition's seat at the Arab League comes at a time of apparent disarray within its top ranks.
Mr al-Khatib - seen as a respected and unifying figure in Syria - announced his resignation on Sunday, a move so far rejected by the coalition.
He said he had promised to resign if certain "red lines" were reached. Although he did not specify what those red lines were, he did accuse world powers of failing adequately to protect the Syrian people.
But analysts say Mr Khatib is also concerned by the influence of Islamists and foreign powers such as Qatar in the opposition coalition - although he played down fears of Islamist dominance in his remarks on Tuesday.
Nevertheless, his resignation came days after Ghassan Hitto, a US-based Islamist, was elected by the opposition to be prime minister of an alternative administration that could govern rebel-held areas from inside Syria.
Mr Khatib considered the move premature, and observers say he may have feared the move would further distance the exiled opposition leadership from what is going on inside Syria.