Qatar proposes $1bn fund for Palestinians in Jerusalem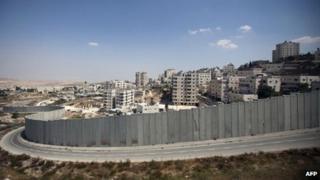 The emir of Qatar has called for the establishment of a $1bn (£660m) fund to help Palestinians in East Jerusalem, and offered to contribute $250m.
Addressing an Arab League summit in Doha, Sheikh Hamad Al Thani said its member states should be serious about defending the city's "Arab character".
The emir did not give details of how the fund might work.
Israel occupied East Jerusalem in 1967. An estimated 200,000 settlers now live there, alongside 280,000 Palestinians.
The Palestinians want East Jerusalem as the capital of a Palestinian state, whereas Israel sees the city as its undivided capital and claims sovereignty over the entire city.
Reconciliation summit
Israel's occupation of East Jerusalem is not recognised by the international community, and its formal annexation of the area in 1980 was rejected by the UN Security Council.
Despite this, the Israeli authorities have pursued policies which have encouraged the construction and expansion of Jewish settlements.
Palestinians complain their residency status and access to basic services have been affected, along with their ability to develop communities.
Opening the Arab League summit on Tuesday, Sheikh Hamad said East Jerusalem was in "serious danger" and "serious action" was required.
"Palestinian, Arab and Islamic rights in Jerusalem cannot be compromised. Israel must realise this fact," he said.
"I propose that this summit, in a move that reflects it is serious about defending the Arab character of Jerusalem and in a bid to save whatever can be saved, establishes a $1 billion fund," he added. "Qatar will contribute $250 million to the fund and the remaining amount should be paid by the other Arab countries."
The emir suggested that the Jeddah-based Islamic Development Bank manage the fund, but did not say how the money would be spent.
The Palestinian Authority, which governs parts of the West Bank, has not yet commented on the proposal. However, it is in financial crisis, with officials blaming foreign donors for failing to honour their promises of aid.
"As we've have seen many times before, unfortunately decisions in Arab summits often do not materialise on the ground," Ghassan Shaka, a senior member of the Palestine Liberation Organisation, told the Reuters news agency.
Sheikh Hamad also proposed holding a small-scale Arab summit in Egypt to further encourage reconciliation between the Fatah movement, which dominates the Palestinian Authority, and Hamas, which governs Gaza.
In January, their leaders agreed to renew efforts to implement a unity agreement signed in Doha in 2012, which would have seen a transitional government formed of technocrats appointed to prepare for elections.
The Palestine Liberation Organisation's chief negotiator, Saeb Erekat, told al-Jazeera that he welcomed the call for the summit, and Hamas spokesman Sami Abu Zuhri praised the "Egyptian, Arab and Islamic efforts to support and speed up Palestinian national reconciliation".