Modern art patronage pays dividends in Saudi Arabia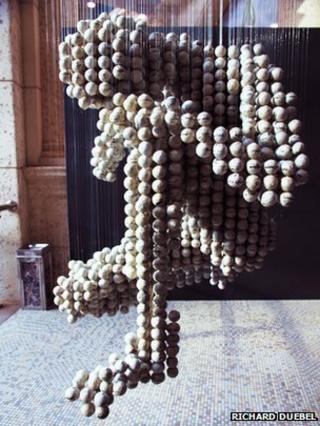 The mobile of a crouching man, composed of hundreds of papier-mache balls suspended from the ceiling, stirred gently in the draught caused by visitors approaching to read the calligraphic message printed on each of the ping pong-sized balls.
The piece might be seen as symbolising the fresh breeze moving through the contemporary art scene in Jeddah, Saudi Arabia.
The port city, the acknowledged cultural capital of Saudi Arabia, gathered four major art exhibitions along with gallery openings, demonstrations of graffiti art, talks, debates and a charitable auction under the umbrella title of Jeddah Art Week.
The first city-wide showing of contemporary artworks by established as well as young, unknown artists mostly from the Arabian peninsula demonstrated that Jeddah has been transformed into an important centre for contemporary art through private enterprise.
According to Mohammed Bahrawi, founder of the organisation Arabian Wings and co-curator of the exhibition Limited Edition 2, the week represents the culmination of significant private sector funding that has been poured into the kingdom's arts and artists.
"This exhibition links 10 years of patronage by the Abdul Latif Jameel Community Initiatives to these fresh opportunities to nurture new talents," he explains. "We sold 90% of the artworks within 24 hours and that is a good start on which to build a future."
His exhibition sales came to a total of 500,000 Saudi Rials (US $133,000), a sum that exceeded Mr Bahrawi's expectations.
Well-heeled
Khaled al-Ameer's eminently collectable "ball" mobile, Multiple Spirits One Body, was among the first to sell to a Saudi collector. The market for Arab art has benefitted from generous sponsorship but also from strong interest by well-heeled investors in Saudi Arabia keen to purchase works by artists from the region.
Tunisian art expert Lina Lazaar, who curated Sotheby's exhibition of Arab art that is touring the Gulf prior to auction in Doha in April, confirms that the primary market in Jeddah is among the strongest in the kingdom. But she is keen to see further encouragement for Saudi artists through patronage and sponsorship.
"It's all too easy to see Saudi Arabia and Jeddah in particular as an ideal place to attract purchasers," she says. "We must ensure that we give back to these young artists. They need to have opportunities to learn and to rub shoulders with artists from abroad in order to broaden their horizons."
Juxtaposed with the polished Sotheby's display of established artists such as Lebanese Ayman Baalbaki and Moroccan Hassan Hajjaj, a grassroots exhibition of young, edgy Saudi art entitled Mostly Visible woke up visitors with captions stamped on roughly plastered walls.
The most memorable collage, entitled Lost in Transliteration, addresses the gradual replacement of Arabic letters and numbers by their European equivalents to make learning easier.
"It is a dangerous precedent," declares artist Heba Abed. "This could eventually lead to the loss of our written language."
Impresario
While Sotheby's showed some works with reserve prices in excess of US$1,000,000, Mark Poltimore, Deputy Chairman of Sotheby's Europe and in charge of business development in the Middle East, displayed his auctioneering skills at the Athr Gallery in a sale that raised money for literacy programmes for disadvantaged children.
Athr Gallery founder Hamza Serafi opened an assured and confident exhibition of works devoted to the power of the written word, Pen to Paper.
One of the pioneers of the Jeddah gallery scene, Mr Serafi maintains his position as pre-eminent arts impresario in the rapidly developing market.
"Art is a globalised industry," he says. "By having Sotheby's here we are raising the price that Saudi art can command. So we are effectively allowing artists to devote themselves full time to their work."
Mr Serafi went on to say that while the art week was a turning point it was also the culmination of years of hard work and Saudi sponsorship.
The vanguard of the Saudi arts movement, Edge of Arabia, showed the way a decade ago pushing Saudi art on to the world stage for the first time under the aegis of the Abdul Latif Community Initiatives. The three founding members of the group were on hand during the arts week to give one-to-one mentoring to new artists. They also selected those to represent the country at the Venice Biennale to be held in June this year.
According to Zain Zedane, art and culture initiative manager, patronage of specific exhibitions is just part of the company's community arts strategy which includes the Islamic gallery at the Victoria and Albert Museum in London and an international prize for art.
"We are also restoring a large number of important sculptures along the length of Jeddah's Corniche," she explains. "In partnership with Jeddah Municipality we are transforming kilometres of waterfront."
The local and international sculptures were originally commissioned by a former Jeddah mayor in the late 1970s and early 1980s. But this, too, was a philanthropic project that was funded by the private sector. Now they are being brought back to their original state.
The buzz on the Corniche as specialists polish scores of granite, bronze and stone sculptures chimes well with the fresh approach of Jeddah Art Week.
"We want to put a gloss on art of the Arabian peninsula," says Zain Zedane. "Here in Jeddah we have curators, patrons, artists, collectors and gallerists - all the ingredients to put our stamp on the market."