Egypt orders activists' arrests after Brotherhood clashes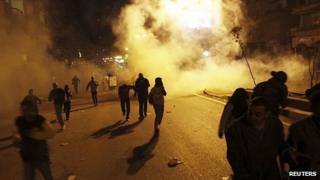 Egypt's top prosecutor has ordered the arrest of five leading political activists following clashes near the Muslim Brotherhood's headquarters.
The five are accused of inciting "aggression" against members of the Brotherhood last week.
The Muslim Brotherhood dominates parliament and is the party of Islamist President Mohammed Morsi.
Egypt has been rocked by violent protests this year, leaving dozens dead and many more injured.
The arrests come a day after President Morsi warned he would take steps to "protect the nation" and said "necessary measures" would be taken against any politicians found to be involved in violence.
Last Friday, activists fought Morsi supporters and police guarding the Brotherhood's headquarters in Cairo.
Riot police had to use tear gas to keep the two sides apart and more than 100 people were injured.
The five activists named on Monday are Alaa Abdel Fattah, Ahmed Douma, Karim El-Shaer, Hazem Abdel-Azim and Ahmed Ghoneimi.
Correspondents describe Alaa Abdel Fattah as a leading blogger who played a role in the protests that led to the overthrow of President Hosni Mubarak in 2011.
A statement from the prosecutor's office said they were accused of inciting "aggression against people, the destruction of property and disturbing civil peace in the events that erupted during the protest in front of the Muslim Brotherhood's headquarters".
The Brotherhood has already filed a legal complaint against 169 people, including party leaders, whom it accused of involvement in the violence.
Egypt's secular opposition accuses President Morsi of seeking to usurp power - a charge he denies.