Israel to resume transfer of PA tax revenue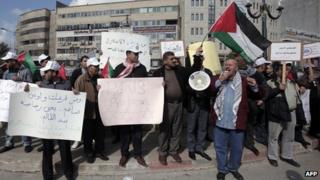 Israel says it is to resume the transfer of tax revenues it collects on behalf of the Palestinian Authority.
Prime Minister Benjamin Netanyahu took the decision in co-ordination with the security cabinet, his office said.
Mr Netanyahu froze the transfers last year after the Palestinians gained non-member observer state status at the UN.
The retaliatory move forced the PA to delay the payment of salaries to 150,000 government employees, further weakening the Palestinian economy.
In January, Mr Netanyahu authorised a "one-off" payment of $100m (£66m) because of the PA's financial situation. The gesture was dismissed by Palestinian officials, however, who described the withholding of tax revenues as "piracy".
The statement issued by Mr Netanyahu's office on Monday said Finance Minister Yair Lapid would instruct officials to transfer outstanding funds.
It did not say how much money will be transferred in the coming days.
Israel collects about $100m a month in duties on behalf of the PA, but the previous Israeli finance minister, Yuval Steinitz, said in December that some money would be used to pay the Israel Electric Corporation and other Israeli public bodies owed money by the PA.
The resumption of revenue transfers comes days after Barack Obama's first visit as US president to Israel and the West Bank, and follow-up meetings by his Secretary of State John Kerry.
Ahead of the three-day trip, a leaked PA report for international donors urged them to pressure the Israeli government to release its revenues, warning of a "possible slide into institutional and political collapse".