Syria rebel commander Riad al-Asaad wounded by blast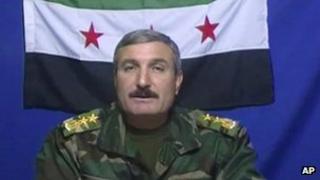 The man who established and once commanded the rebel Free Syrian Army (FSA) has been badly wounded by an explosion in Deir al-Zour province.
Col Riad al-Asaad had to have a leg amputated after the blast in the town of Mayadeen on Sunday, the FSA said.
Some reports said a bomb exploded near his car; others that a rocket hit it.
Meanwhile, Moaz al-Khatib, who resigned as head of the opposition National Coalition on Sunday, has said he plans to address a summit in Qatar this week.
In a statement on his Facebook page, Mr Khatib said that after "consulting trustworthy figures", he had "decided to make a speech in the name of the Syrian people".
Nizar al-Haraki, the coalition's envoy in Doha, said Mr Khatib would head the Syrian opposition delegation filling the seat of Syria at the Arab League meeting. Syria's membership was suspended in November 2011.
Mr Khatib complained in his resignation statement on Sunday about foreign powers, which he claimed were withholding aid from the opposition while trying to control it.
"They support whomever is ready to obey, and the one who refuses has to face starvation and siege," he said. "We will not beg to satisfy anyone, and if there is a decision to execute us as Syrians, so let it be."
His decision came five days after the coalition elected Ghassan Hitto as prime minister of an interim government, which he considered premature.
Damascus shelled
An FSA spokesman told BBC Arabic that Col Asaad had been touring the town of Mayadeen, which is largely under rebel control, on Sunday night when his car was hit by an explosion.
He was seriously injured and had to have his right leg amputated, Col Aref al-Hummoud said.
Col Asaad was later evacuated to a hospital in Turkey for treatment and his condition was stable, the FSA spokesman added.
A relative of Col Asaad and a Turkish official also confirmed that he was being treated in Turkey and that his injuries were not life-threatening.
Activists reported a big explosion in Mayadeen on Sunday evening. But they also said that it had come under rocket fire.
Col Asaad, a former air force engineer, was one of the first senior Syrian military officers to defect in July 2011 and was instrumental in setting up the Free Syrian Army a month later in Turkey.
Under his leadership, the FSA functioned as an umbrella group for army defectors, civilians who had taken up arms, and Islamist militants. Fighters had only limited contact with each other or the commanders.
As the rebellion progressed, Col Asaad was largely sidelined by the establishment of more formal command structures.
He announced in September 2012 that he was moving his headquarters into Syria, in preparation for "liberating Damascus".
In December, more than 260 leaders of the main FSA units from across Syria agreed at a meeting in Antalya to a unified command structure. They elected a 30-member Supreme Military Council (SMC), which then chose Gen Salim Idriss as the new chief of staff.
Col Asaad said he had not been invited to the meeting by the foreign powers that organised it, adding: "They want people who obey orders."
He nevertheless remained a prominent figure in the armed uprising, regularly appearing with rebel fighters on the ground in Syria.
Moaz al-Khatib said the wounding of Col Asaad was "part of an attempt to assassinate the free leaders of Syria".
In a separate development on Monday, rebels were reported to have shelled a high-security area within 1km (0.6 miles) of President Bashar al-Assad's residence in Damascus.
At least one person was killed by the mortar explosions in Umayyad Square, government-run Ikhbariya TV reported.
Also on Monday, the United Nations announced that it will move about 100 foreign staff out of Syria after mortar shells fell near their hotel in Damascus. The mortars damaged the building and a UN vehicle.
"The United Nations remains active and committed to helping the Syrian sides in their search for a political solution. UN agencies and their partners also remain committed to providing assistance to millions of people in need in Syria," UN spokesman Martin Nesirky said.