Syrian opposition leader Ahmed Moaz al-Khatib resigns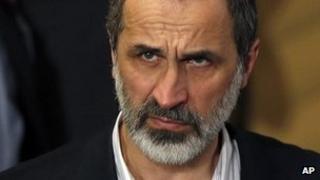 The leader of the opposition National Coalition for Syrian Revolutionary and Opposition Forces has resigned.
Ahmed Moaz al-Khatib said world powers had failed to help the rebels, and he could only improve the situation by working outside of the coalition.
Analysts say Mr Khatib believed the coalition was too heavily influenced by Islamists and countries like Qatar.
However, a later report claimed that his resignation had been refused and he was expected to continue in his post.
The BBC's Jim Muir in neighbouring Lebanon says the issue that brought matters to a head appears to have been last week's election of a prime minister for an interim opposition government.
The National Coalition chose US-based Islamist Ghassan Hitto to head the alternative administration, which is intended to govern rebel-held areas from inside Syria.
Mr Hitto's election in Istanbul last Monday was described by some coalition leaders as a "transparent, democratic" election, but it also prompted several resignations from the National Coalition.
And the military wing of the opposition, the Free Syrian Army, has also said it would not recognise Mr Hitto because he had been forced on the opposition.
Mr Khatib may have feared that Mr Hitto's election would further distance the outside opposition leadership from what is going on inside Syria, our correspondent says.
'Unprecedentedly vicious'
Mr Khatib said in his statement that he had promised to resign if certain "red lines" were reached, but he did not specify what those red lines were.
"I announce my resignation from the National Coalition, so that I can work with a freedom that cannot possibly be had in an official institution," he said.
"For the past two years, we have been slaughtered by an unprecedentedly vicious regime, while the world has looked on.
"All the destruction of Syria's infrastructure, the detention of tens of thousands of people, the forced flight of hundreds of thousands and other forms of suffering have been insufficient for the international community to take a decision to allow the people to defend themselves."
Mr Khatib, who was elected head of the National Coalition in November 2012, is seen as a respected and unifying figure in Syria.
However, he caused controversy in January by offering talks with Syrian President Bashar al-Assad on condition that 160,000 prisoners were freed.
The opposition had previously insisted Mr Assad step down before any talks could begin.
US Secretary of State John Kerry said he liked Mr Khatib on a personal level and was sorry to hear about the resignation.
However, Mr Kerry added: "The notion that he might resign has frankly been expressed by him on many different occasions in many different places and it is not a surprise."
Mr Khatib's resignation comes a day after European Union foreign ministers failed to resolve their differences over whether to exempt Syrian rebels from an arms embargo.
Correspondents say divisions within the opposition are the main concern for international backers.