Israel opens fire after 'shooting from inside Syria'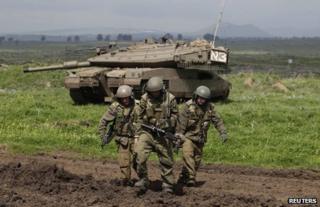 The Israeli government has said its military destroyed a machine-gun nest inside Syria after troops were shot at twice in the Golan Heights.
An Israeli military spokesman said it was his understanding that the shots had not been stray fire from fighting in the civil war between the Syrian government and rebels.
Troops responded by firing a guided missile at the Syrian position.
Israel has occupied the Golan Heights since the 1967 war.
Israel has annexed the territory, but this is not recognised internationally.
Defence Minister Moshe Yaalon said his country would not let "Syria's army or any other element" violate its sovereignty.
No Israeli soldiers were hurt in the shooting, during which army vehicles were hit, the military said.