Syria unrest: UN probes 'chemical weapons' in Aleppo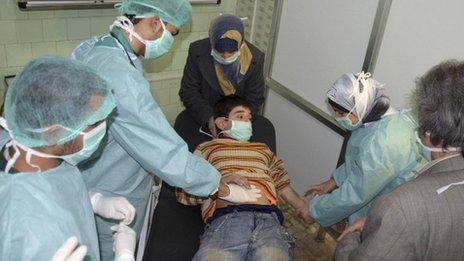 The UN is to investigate the possible use of chemical weapons in an attack in Syria, Secretary General Ban Ki-moon has announced.
The investigation will focus on an incident in Khan al-Assal, Aleppo province, when Damascus says rebel forces used chemical weapons.
But the rebels accuse the government of staging the attack.
The US has urged the UN to look into "any and all credible allegations" of use of the weapons.
Only a handful of countries have failed to sign the Chemical Weapons Convention (CWC) which internationally bans their use. Syria is one of them.
It is believed to have stockpiles of mustard gas and the highly toxic nerve agent sarin.
On Wednesday Syria's permanent representative to the UN, Bashar Jaafari, said he had asked Mr Ban to form a "specialised, independent and neutral technical mission to investigate the use of the terrorist groups operating in Syria of chemical weapons yesterday against civilians".
The complaint relates to the incident in Khan al-Assal on Tuesday.
Following the incident, rebel commanders accused government forces of carrying out the attack, and cited reports of victims suffering breathing difficulties and bluish skin.
But questions still remain about whether chemical weapons were used in the rocket attack - and if so, by whom, says the BBC's Nada Tawfik in New York, where the UN is based.
If verified, it would be the first incident of chemical weapons use in the two-year conflict, thought by the UN to have claimed more than 70,000 lives.
Mr Ban said he was working to establish the investigation with the Organisation for the Prohibition of Chemical Weapons (OPCW) which oversees the chemical weapons convention, and the World Health Organization (WHO).
"My announcement should serve as an unequivocal reminder that the use of chemical weapons is a crime against humanity," said Mr Ban.
"The international community needs full assurance that chemical weapons stockpiles are verifiably safeguarded."
He said his investigation team would require "full co-operation" from all parties, including "unfettered access". But he warned the investigation "will not happen overnight".
As well as accusing the Syrian government of being behind Tuesday's attack in Khan al-Assal, the Syrian opposition has also accused the government of carrying out another attack using chemical weapons near Damascus.
Mr Ban said he was "aware" of other allegations.
He would not be drawn on whether these would also be investigated despite being urged to do so - "swiftly" - in a US statement and a letter reportedly sent to Mr Ban by the UK and France.
The UN Security Council is acrimoniously divided over the Syrian war, after Russia and China repeatedly opposed resolutions that sought to ramp up the pressure on Bashar al-Assad's government.
Russia has welcomed the UN investigation, but argues it should be limited to the Khan al-Assal incident.