Syrian conflict: Your questions to Jeremy Bowen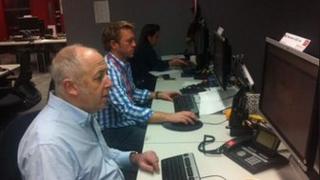 In March 2011 protests began in Syria against Bashar Al Assad's government.
As Syrians mark two years since the start of the uprising BBC Middle East editor Jeremy Bowen @BowenBBC answered your questions in a live Twitter Q&A.
Here is an edited version of the session which was held on Friday 15 March.
Question from @wooddt99 on Twitter: Where is Assad getting his money from to buy arms & pay his troops? #AskBBCJeremy
Jeremy answers: His best sources of money come from Iran and Russia. Syrian economy is barely functioning #AskBBCJeremy
Question from @moizshawalchi on Twitter: What's the ultimate solution to the Syria conflict? #AskBBCJeremy
Jeremy answers: Syrians have to decide. can't be imposed by foreigners. at the moment it's all about the logic of war -- who's strongest #AskBBCJeremy
Question from @Kingsam_Soyinka on Twitter: Is there any sign of deep divisions among the different rebel groups fighting against Assad? #AskBBCJeremy
Jeremy answers: Rebels share common goal of toppling Assad. The real arguments will start if they do that. #AskBBCJeremy
Question from Matt in Sheffield by email: If we start supplying weapons to the opposition, what would the Russian reaction be? #AskBBCJeremy
Jeremy answers: Russians have already said arms supplies to rebels would breach international law. #AskBBCJeremy
Question from Alex in Brighton by email: How much of the Syrian population is for and against Assad? #AskBBCJeremy
Jeremy answers: no opinion polls in Syria. Assad has core support from Alawites and some other minorities, most armed rebels Sunnis #AskBBCJeremy
Question from @RossJHarwood on Twitter: Could Assad still be offered a way out by the likes of Russia and do you think he'd ever take it? #AskBBCJeremy‏
Jeremy answers: Assad says he will die in Syria. Right now I guess he's feeling strong, still there after 2 years unlike some ME rulers #AskBBCJeremy
Question from Rachel in Sheffield by email: Are 'both sides' looking after the historic sites e.g. Palmyera? #AskBBCJeremy
Jeremy answers: Syrians very proud of their heritage. But where there's fighting, it's been knocked about badly. #AskBBCJeremy
Question from Louis by email: Do you think the conflict in Syria will last as long as the civil war in Lebanon? #AskBBCJeremy
Jeremy answers: Hope not for everyone's sake. But Syria could be facing years of fighting and warlordism. Lebanon not bad comparison #AskBBCJeremy
Question from @jennobuko on Twitter: Do you think the Arab League should reinstate Syria, as requested by Lebanon? #AskBBCJeremy
Jeremy answers: Arab League gave seat to rebels, if they can form 'govt', as political act. unlikely they will change their minds #AskBBCJeremy
Question from @reporterboy on Twitter: How true is the line from Assad/West that the revolution's been "hijacked" by extremists #AskBBCJeremy
Jeremy answers: In today's mideast, jihadists bound to join in, and are strong fighters. but their worldview not shared by most Syrians. #AskBBCJeremy
Question from @Woolfy210 on Twitter: Will Barack Obama's visit to Israel and the West Bank yield any significant change in the peace process? #AskBBCJeremy
Jeremy answers: Doubt it very much. Would be gobsmacked if it did. right now there is no peace process #AskBBCJeremy
Question from @jillianmoody on Twitter: What's it like day to day in Syria's cities? Are the schools still open? Are people still working? #AskBBCJeremy
Jeremy answers: In war torn areas, normal life in tatters. In other places, eg central Damascus you still see kids going to school #AskBBCJeremy
Question from @apemalo on Twitter: Is there danger in Lebanon if Assad falls? #AskBBCJeremy
Jeremy answers: Whether Assad goes or stays, Lebanon has too many connections with Syria not to be affected deeply by the war #AskBBCJeremy
Question from @MoeManOreo on Twitter: What's your opinion on the situation in Egypt now? Do you think Morsi is doing what he's supposed to? #AskBBCJeremy
Jeremy answers: Egypt has huge econ and polit probs and Morsi might do better if he remembers he didnt have landslide win#AskBBCJeremy
Question from @MattMattwallis on Twitter: In 1957 Nasser ended the Syrian crisis. Is the current lack of a strong Middle East leader a factor? #AskBBCJeremy
Jeremy answers: Could argue Nasser made matters worse. Dominant Arab leaders have not so far made lives better for most of their people #AskBBCJeremy
Question from @AllThatChas on Twitter: What do you like most about Israeli culture/food? #AskBBCJeremy
Jeremy answers: love the food in Jerusalem, with its tastes of all the Middle East and Europe. thanks to @ottolenghi trying to cook it #AskBBCJeremy
Question from @paulmoore37 on Twitter: On a lighter note, score for Wales v England rugby? #AskBBCJeremy
Jeremy answers: Don't care as long as Wales win, preferably by 8 clear points! #AskBBCJeremy
You can follow Jeremy on Twitter: https://twitter.com/BowenBBC