Iran nuclear weapon over a year away, says Obama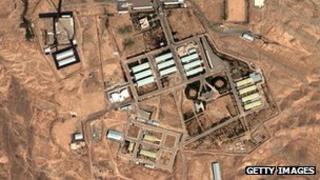 US President Barack Obama has told an Israeli television channel it would take Iran "over a year or so" to develop a nuclear weapon.
In an interview with Channel 2 he said he did not want to "cut it too close" and declined to rule out the possibility of military action.
Iran's nuclear programme is expected to be high on the agenda when Mr Obama visits Israel later this month.
Tehran insists it is refining uranium only for peaceful energy purposes.
But Israel has repeatedly threatened a military strike if Iran appears to be on the verge of obtaining a bomb.
Washington is pushing for more time to allow diplomacy and economic sanctions to run their course.
"We think that it would take over a year or so for Iran to actually develop a nuclear weapon but obviously we don't want to cut it too close," Mr Obama said.
"My message (to Israeli Prime Minister Benjamin Netanyahu) will be the same as before: if we can resolve it diplomatically, that's a more lasting solution. But if not, I continue to keep all options on the table."
Asked if an attack on Iran's nuclear sites was a realistic option he said: "When I say that all options are on the table, all options are on the table and the United States obviously has significant capabilities.
"But our goal here is to make sure that Iran does not possess a nuclear weapon that could threaten Israel or could trigger an arms race in the region. That would be extraordinarily dangerous at a time when obviously there are already a lot of things going on."
On 20 March Mr Obama is due to begin his first trip to Israel, the Palestinian territories and Jordan since being elected president in 2008.
He and Mr Netanyahu are also expected to discuss the war in neighbouring Syria and efforts to revive peace talks with the Palestinians.
The UN Security Council has ordered Iran to stop uranium enrichment and imposed four sets of sanctions.
Earlier this month the head of the UN's nuclear watchdog called for access to Iran's Parchin military site "without further delay" and without waiting for negotiations to make progress.
The IAEA has long suspected nuclear weapons research is taking place at the site, just outside Tehran.
It has not had access to the military complex since 2005.
In the same interview with Channel 2, Mr Obama said he had no plans to "immediately" release convicted Israeli spy Jonathan Pollard.
Pollard, 57, was jailed for life in 1987 for leaking secret US documents to Israel. Mr Obama said he was guilty of "a very serious crime".
In another development on Thursday, the Pentagon said a US fighter jet over the Gulf had fired a warning flare to stop an Iranian jet approaching an unmanned US drone.
A statement said the Iranian fighter broke off pursuit after the incident on 12 March. It said the drone had been flying over international waters.